For Across Black America week of Feb. 23, 2017
Carol Ozemhoya | OW Contributor | 2/23/2017, midnight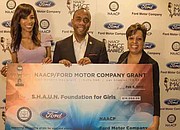 California
Ford Motor Company Fund returned as presenting sponsor of the 13th annual NAACP Hollywood Bureau Symposium, entitled "Pictures, Power, Progress: Pathways to Inclusion." The panels focused on key issues impacting the lack of diversity and inclusion within the entertainment industry. Shaun Robinson, former host of NBC's "Access Hollywood," moderated the list of panelists that included: Cornell William Brooks, "president/CEO, NAACP; David White, national executive director, SAG/AFTRA; actor Mykelti Williamson, ABC's "Designated Survivor;" Frank Gonzales, executive in charge of Diversity Programs, DGA; Carl Seaton, PGA; Michelle Amor, co-chair, Committee of Black Writers, Writer's Guild of America West; Deborah Calla, Chair PGA Diversity Committee, PGA; Charles Howard, Chair, PGA Diversity Committee, PGA; and Consuelo Flores, Director, Policy Strategy and Analysis, EEO and Diversity, SAG/AFTRA. As part of the event, Ford donated $10,000 to Shaun Robinson's S.H.A.U.N Foundation for Girls.
---
Philip and Tanya Hart are prepping a movie about aviation pioneer Bessie Coleman. Based upon Philip Hart's source material from his two Bessie Coleman books for young readers and a treatment developed by the Harts while at Disney Studios, the two producers are now moving ahead into development and production of "Flying Free with Bessie Coleman." The Hart's daughter Ayanna Hart is a producing partner on the movie. Bessie Coleman earned her pilot's license in France in 1921, becoming the first Black woman to earn a pilot's license two years before famous pilot Amelia Earhart earned her license. Coleman's mother was African American while her father was Native American. Upon returning to the United States from France after earning her pilot's license, Coleman barnstormed the nation doing air shows and promoting aviation as a career for African Americans. Her goal was to open a flight school to teach aviation mechanics and to give flying lessons. The Bessie Coleman Aero Club opened in Los Angeles in 1929, thus becoming the first all-Black flight school in the world. Philip Hart's great-uncle James Herman Banning was the chief pilot for the Bessie Coleman Aero Club, which in 1931 put on the first all-Black air show at L.A.'s Eastside airport. The Cali-based Harts are planning for a 2018 release of "Flying Free with Bessie Coleman."
District of Columbia
On Feb. 10, proposed legislation was submitted to the D.C. Board of Elections, is according to BlackNews.com a model for legislators to provide opportunities for previous slave owners, and those that participated in enslavement of African American families, to make amends. The proposed legislation submitted by John Cheeks, head of the United States Citizens Recovery Initiative Alliance Inc. (USCRIA), is the first legislation to provide benefits, at no cost to taxpayers. It is also an opportunity for individual families, industries, businesses, faith-based institutions, governments and others to be held accountable. The legislation is reportedly designed to help descendants of American slaves. The benefits are not handouts, and differ from other historical reparations, such as those given to Japanese citizens entered during WW II and Native Americans, says the Black News report. The benefits include: 1. Aid to businesses. 2. Providing educational opportunities. 3. Improving health. 4. Providing mental health, alcohol and substance abuse care. 5. Housing ownership. 6. Financial protection. 7. Veterans rights. 8. Credit acceptance. 9. Career rights. "All benefits are designed to improve life for individuals, families and communities. In doing so, the nation benefits." Eligibility criteria have been proposed which include proof by DNA testing. Those claiming benefits must be 40 percent descendants of slaves and born in the United States. For the complete text of the proposed legislation, go to www.uscria.com/legislation.html.