A blended take on family favorites
Mushrooms served three ways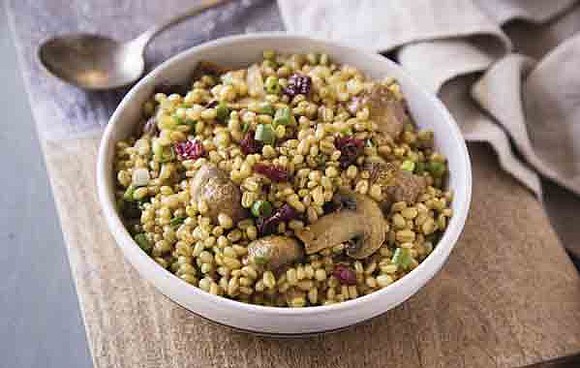 Stir in green onion, cilantro and sesame seeds. Add mushrooms and gently toss in marinade. Cover and let rest 30 minutes.
Place cabbage in bowl and toss with lime juice and pinch of salt. Set aside.
Stir in 1 teaspoon of soy sauce to both lentils and wild rice.
To serve, arrange equal amount of mushrooms, cabbage, lentils, wild rice and cucumbers in each bowl. Drizzle with remaining marinade and garnish with chopped cilantro, sliced green onions and black sesame seeds. Serve with lime wedges.
Note: Can be served at room temperature or cold.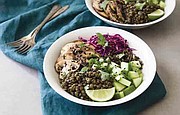 Roasted mushroom and wheat berry salad with orange curry vinaigrette
Prep time: 10 minutes
Cook time: 15 minutes
Servings: 4
8 ounces white button mushrooms, halved
1 tablespoon extra-virgin olive oil
1/2teaspoon finely ground sea salt
1/4 teaspoon ground black pepper
2 cups cooked wheat berries, warm
2 green onions, sliced
2 tablespoons dried cranberries, chopped
Dressing:
2 tablespoons extra-virgin olive oil
2 tablespoons fresh orange juice
1 teaspoon curry powder
1/4 teaspoon finely ground sea salt
Heat oven to 400 F.
Place mushrooms on baking sheet. Drizzle with olive oil. Sprinkle with salt and pepper. Toss to coat.
Bake 10 minutes. Carefully stir mushrooms and bake 5 more minutes, until tender.
Transfer mushrooms to medium bowl. Add wheat berries, green onions and cranberries.
In small bowl, whisk together all dressing ingredients.
Pour dressing over salad. Toss to mix all ingredients. Serve warm.