Los Angeles workers gather to protest Measure S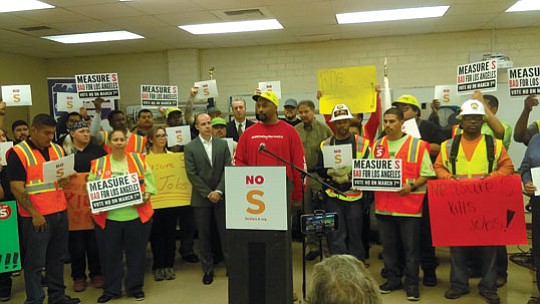 The Yes on S campaign, a group heavily backed by the Hollywood-based AIDS Healthcare Foundation, has spent more than a year highlighting the city's frequent practice of changing planning rules for individual development projects.
Those decisions, say Measure S supporters, are heavily influenced by campaign contributors—and have helped make neighborhoods unaffordable.
Business leaders, labor unions and the city's affordable housing groups say Measure S would trigger a dramatic slowdown in housing production, pushing already high rents even higher.
They also argue that the homelessness crisis would grow worse, because nonprofit developers would be unable to use long-established planning tools to win approval for their projects.
Moreover, if the measure passes, some men and women will be "put out of work," explained John Ferruccio, director of organizing for the Southern California Pipe Trade (District Council 16).
If adopted, Measure S will:
—Prevent developers from writing their own "environmental impact" reports, which supporters of the measure believe is an obvious conflict of interest that is used against communities as an unfair tool of overdevelopment.
—Require the Los Angeles City Council to create a citywide plan for Los Angeles tied directly to infrastructure limitations, true population figures and community desires.
—Preserves neighborhoods and institutes a protective two-year timeout that stops the Los Angeles City Council from its current practice of spot zoning–bending the rules to approve mega-projects and inappropriate development that destroys neighborhood character and displaces longtime residents and small businesses.
From the outside looking in, Measure S appears to be a godsend for low-income minorities who could otherwise be displaced by the development of housing they cannot afford. However, there is a contingent of local elected officials who disagree with the notion that building high-priced megastructures will have a negative impact on minorities.
"I think Measure S is a horrible idea," declared Eighth District Councilman Marqueece Harris-Dawson. "I can't think of a single sitting African American elected official who endorses the measure."
He added, "The way you raise the price of housing and push people out is by restricting supply," explained Harris-Dawson. "The less housing there is, the more expensive it's going to be. This idea that building housing pushes people out is ridiculous. I think the exact opposite is true. The only way people will be able to stay is if we have new housing to absorb the new people who want to live here [Los Angeles]. Otherwise, well-to-do people from other cities will outbid local residents because there will be no other place to go. That doesn't sound ideal to me."