Los Angeles workers gather to protest Measure S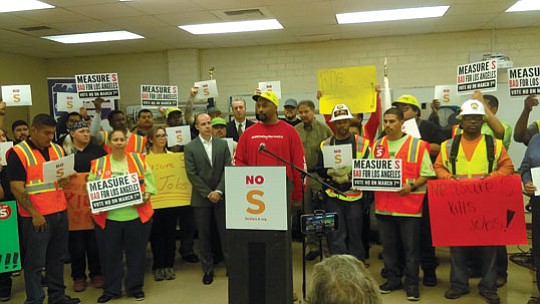 Wearing hardhats and waving homemade signs, a diverse collection of construction workers and affordable housing advocates gathered recently to protest the potential passage of Measure S, a proposal that would ban development of low-cost housing and potentially eliminate more than an estimated 12,000 good-paying jobs with benefits. The press conference and protest took place at the Joint Journeyman and Apprentice Training Center near downtown Los Angeles.
For roughly an hour, there were speeches given by workers who believe that the passaage of Measure S will adversely impact their ability to provide for themselves and their families.
In November, a cluster of African American and Latino workers assembled to endorse Proposition JJJ—an initiative that aimed to create more affordable housing in South Los Angeles by requiring developers to designate a certain percentage of condos and apartments in new residential buildings for low-income tenants. Supporters speculated at the time, that this legislation could create jobs.
During the press conference and demonstration last week, Charles Slay, a former convict who was released early from a life-sentence in prison, told the audience that earning a steady paycheck had transformed his life.
"When I was released from incarceration, society was totally new to me," he explained. "I didn't realize all the things I needed (to know) to survive in society. Everything was given to me in prison. I was immersed in dysfunctional thinking. Having a steady job has changed my life. I no longer have to depend on the County of Los Angeles or my family to take care of me. I can take care of myself and be a positive influence to my community. I plan on being a first-time homeowner in the next several years. If there's a moratorium on construction, then there will be less jobs and that will affect me and plenty of other people."
"I'll be the first one on the chopping block," Slay added. "I put all of my eggs into this basket. I don't have a plan B, and there are a lot of other good men and women who are coming home from prison who are in need of structure and security. This job is imperative to my existence."
Measure S, called Building moratorium is asking for a restriction on general plans amendments; and requires a review of the city's General Plan, which is a dynamic document consisting of several elements—land use; plans for each of the city's 35 community plan areas. It must be approved by the City Planning Commission and adopted by the City and recommends:the measure recommends: 1) imposing a two-year moratorium on projects seeking General Plan amendments or zone or height district changes resulting in more intense land use, an increase in density or height, or a loss of zoned open space, agricultural or industrial areas, with exceptions including for affordable housing projects; 2) prohibiting geographic amendments to the General Plan unless the affected area has significant social, economic or physical identity (defined as encompassing an entire community or district plan area, specific plan area, neighborhood council area or at least 15 acres; 3) requires systematic, public review of the General Plan every five years; 4) prohibits project applicants from completing environmental impact report for the city; 5) requires the city to make findings of the General Plan consistency for planning amendments, project approvals and permit decisions; and 6) prohibit certain parking variances.