Across Black America 2017
Carol Ozemhoya | OW Contributor | 12/28/2017, midnight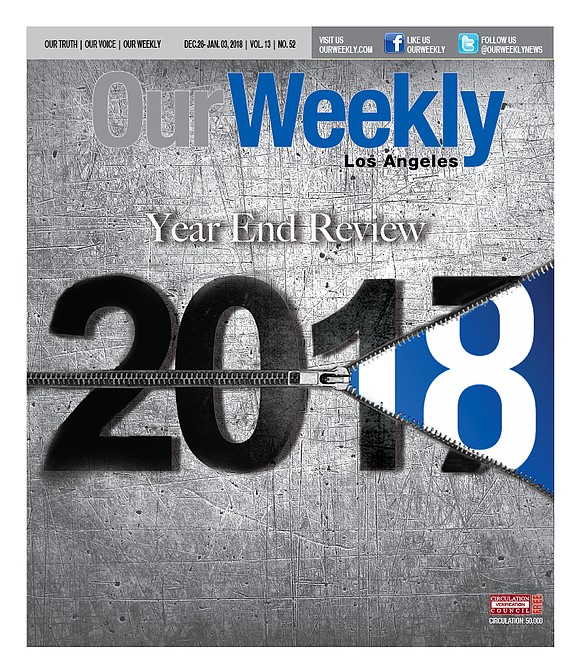 Arizona
March 9
The Metropolitan Sun Chapter of the National Council of Negro Women (NCNW) celebrated its 10th year of existence in Maricopa County and the state of Arizona. The group honored several Black business owners, including Elizabeth White and Carolyn Lowry. "Black women from the days of Sojourner Truth, Harriett Tubman, Ida B. Wells-Barnett, all the way up to Rosa Parks and Shirley Chisholm, and beyond, have made a difference," said NCNW President Kath Kennard. "Our organization was founded to celebrate women, sisterhood, the community and families."
Arizona/California
Nov. 15
Lil Peep, a 21-year-old California-based rapper who blended hip hop with a music called emo, died while on his tour bus near Tuscon. Initial reports said he died from an overdose of Xanax and another drug. A spokesperson for his record label, First Access Entertainment, confirmed the death. The CEO of First Access added that his mother said she was proud of her son and what he had already accomplished in his short life.
Arkansas
March 23
Arkansas legislators voted March 17 to separate Confederate Gen. Robert E. Lee from the holiday that celebrates the memory of civil rights activist Martin Luther King Jr. The proposal cleared the state House by a vote of 66-11. The legislation will move Robert E. Lee Day from the third Monday in January, which it currently shares with Martin Luther King Jr. Day, to the second Saturday in October. Mississippi and Alabama will be the only remaining states to honor both Lee and King on the same date. The bill not only separates the two commemorative dates but will also require the state's Department of Education to create a special curriculum on the fight for civil rights and the Civil War, starting with the 2018-2019 school year.
July 13
The Little Rock Black Police Officers Association sent a letter to the Little Rock City Board of Directors, alleging racial discrimination by Police Chief Kenton Buckner, reports KATV ABC News. Members of the LRBPA say they're speaking out now after repeated attempts to bring their grievances to Chief Buckner and city manager Bruce Moore. In the letter obtained by ABC's Channel 7 News, the organization members are calling for an independent investigation into the "discrimination, inequities and disparaging treatment of minority officers and supervisors under the command of Chief Kenton Buckner."
California
Jan. 26
A New Way of Life Re-Entry Project has partnered with McKinney and Associates to highlight women's experiences with mass incarceration through a new multimedia storytelling platform known as JustUS Voices Storytelling for Change. It's being billed as "a special opportunity for formerly incarcerated women to be heard in a compelling space," according to Susan Burton, founder and executive director of A New Way of Life.
Feb. 2
Jessica L.A. Pipkins has been selected as the new president of the Black Public Relations Society's Los Angeles (BPRS-LA) chapter. Pipkins takes the helm from Shawn Smith, who served for the last four years. Pipkins brings with her an impressive list of credentials and professional achievements garnered over 12 years as one of the industry's preeminent media strategists.