Trump plans to deliver lumps of coal to America's inner cities
Cory Alexander Haywood OW Contributor | 12/20/2017, midnight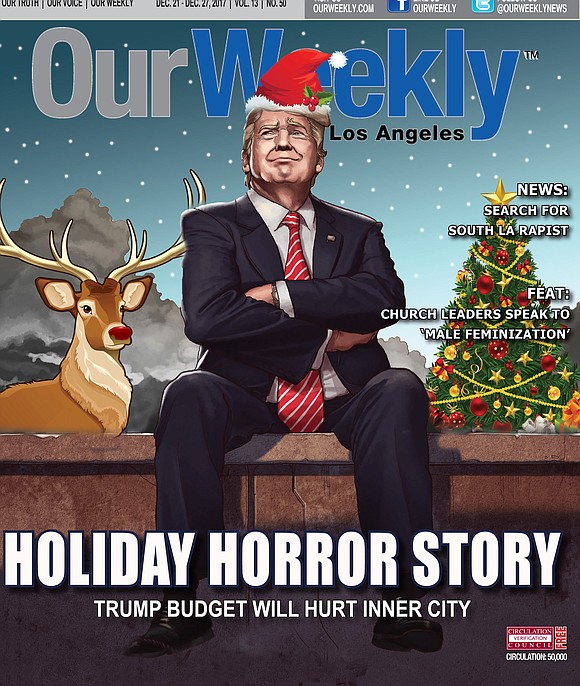 It's the season of giving, but there's currently a 71-year-old Grinch lurking in the Oval Office. Word on the street is that he's not too fond of Black people, independent women and, least of all, illegal immigrants. 
President Donald Trump's budget proposes to cut some $2.5 trillion over the next decade across programs for low- and moderate-income people, including a range of important programs for which the states receive significant federal funds:
Food Stamps
Trump's budget would drive millions of people off of food stamps, part of a new wave of spending-cut proposals that already are getting panned by lawmakers in both parties on Capitol Hill.
Cuts include a whopping $193 billion from food stamps over the coming decade — a cut of more than 25 percent — implemented by cutting back eligibility and imposing additional work requirements, according to talking points circulated by the White House. 
The program presently serves about 42 million people. The food-stamp cuts are several times as large as those attempted by House Republicans a few years back and make up the bulk of a 10-year, $274 billion proposal that's labeled as welfare reform.
The fleshed-out proposal follows up on an unpopular partial release in March that targeted the budgets of domestic agencies and foreign aid for cuts averaging 10 percent — and made lawmakers in both parties recoil.
Trump wrote in his letter to Congress, "We must reform our welfare system so that it does not discourage able-bodied adults from working, which takes away scarce resources from those in real need. Work must be the center of our social policy."
White House budget director Mick Mulvaney said at a press conference, "If you're on food stamps and you're able-bodied, then we need you to go to work."
The number of recipients on food stamps skyrocketed recently; 50 million Americans now receive food stamps and use Electronic Benefits Transfer (EBT) cards at grocery or convenience store to buy food and drinks. The 50 million citizens on food stamps amount to 15 percent of the population, a substantial increase from the 17 million Americans who received food stamps in 2000.
Medicaid
Trump's budget, expected to be unveiled before the New Year, will reportedly include $800 billion in cuts to Medicaid -- a move that underscores the President's resolve to significantly downsize the federal program even as Republican lawmakers are clashing over the issue in Congress.
The House legislation to dismantle the Affordable Care Act -- President Barack Obama's landmark health care law also known as Obamacare -- would significantly curtail federal support for Medicaid.
Under that bill, in 2020, states that expanded the program would no longer receive enhanced funding to cover low-income adults, while states that did not expand previously would not be able to do so, starting immediately. Some 11 million adults have gained coverage under Medicaid expansion.
Also, the bill would reduce federal funding for the entire Medicaid program, which covers more than 70 million low-income children, adults, disabled Americans and the elderly. States would either receive a set amount of funding per enrollee, known as a per capita grant, or fixed funding in the form of a block grant.