Bullying reaches epidemic proportions as more young people cry out for help
Take action, don't be an observer
Merdies Hayes Editor In Chief | 12/14/2017, midnight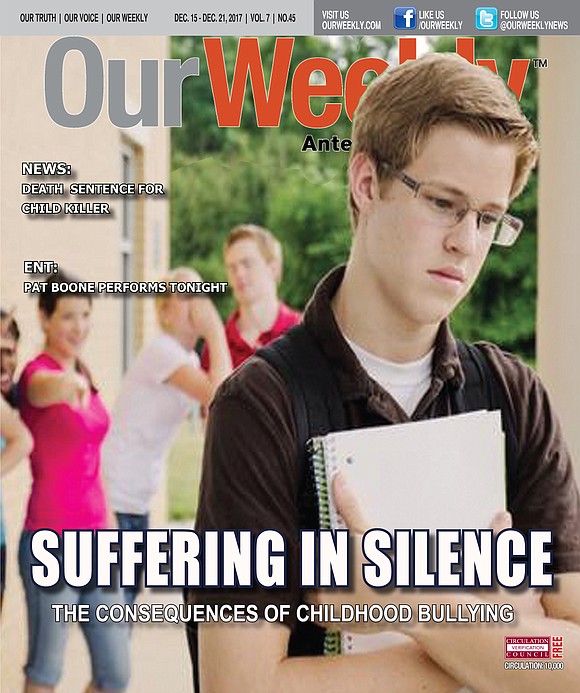 Students with disabilities are an unfortunate target for bullying. Less than a dozen U.S. studies have been conducted on the connection between bullying and developmental disabilities, but previous research has concluded that children with disabilities were two to three times more likely to be bullied than their non-disabled peers.
Disabled children especially at risk
Researchers point out that students with disabilities were more worried about school safety and being injured or harassed by other peers compared with students without a disability. For instance, the National Autistic Society has reported that 40 percent of children with autism and 60 percent of children with Asperger's syndrome have reported being bullied. What may be worse is that bullied children enrolled in special education are often told by others "not to tattle" about twice as often as those not in special education.
Bullying spans all racial, ethnic and sexual categories. The National Center for Educational Statistics reported in 2016 that 24.7 percent of African American students, 17.2 percent of Latino students, and 9 percent of Asian students have reported being bullied at school. In what is identified as "biased-based" bullying, more than one third of adolescents report being bullied because of their skin color, ethnicity, religion or sexual orientation. Race-based bullying is significantly associated with negative emotional and physical health effects.
More bullying of LGBT students
With more adolescents identifying with the LGBT (Lesbian, Gay, Bisexual, Transgender) community, a unique look at this issue was undertaken in 2014 by the National School Climate Survey. They found that 74.1 percent of LGBT students were verbally bullied (e.g. called names, threatened) in the past year because of their sexual orientation; 55.2 percent of these youngsters said they were bullied because of their gender expression.
A significant number (36.2 percent) of LGBT youth reported being physically bullied (pushed and shoved) in the past year because of their sexual orientation; 22.7 percent said it was because of their gender expression. Among these students, 55.5 percent said they felt unsafe at school because of their sexual orientation.
So many sad stories of youth suicide are directly correlated with bullying. While other mediating factors such as depression, violent behavior and substance abuse can be associated with either suicidal thoughts, attempts or youth deciding to take their lives, the CDC has reported that students who bully others, are bullied, or witness bullying are more likely to report high levels of suicide-related behavior than students who report no involvement in bullying. The CDC was careful to point out that youth suicide is not always the natural response to being bullied, and this false belief has the potential to normalize the response and thus create a "copycat" behavior among youth.
School yard is frequent place
Bullying can occur any place, any time and at any age. For children, however, the school yard is often the common location for what is believed to be harmless horseplay or teasing. One little girl grabs another's hair and yanks her backwards off a swing. In the cafeteria, the so-called "mean kid" smacks down a smaller boy's tray, spilling his food. In the classroom, a group of kids repeatedly taunt the youngest or newest kid in class for being "stupid."