Bullying reaches epidemic proportions as more young people cry out for help
Take action, don't be an observer
Merdies Hayes Editor In Chief | 12/14/2017, midnight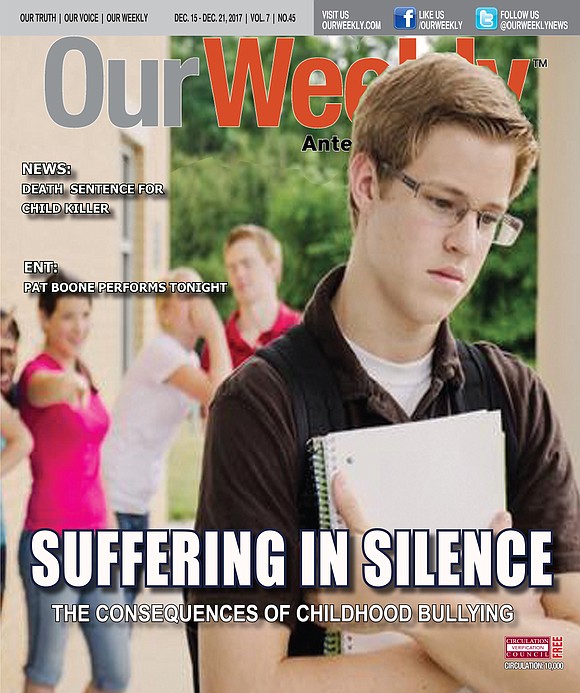 By now, millions of people around the world have likely seen the heartbreaking video of 11-year-old Tennessee native Keaton Jones who delivered a tearful rebuke to his classmates who have regularly bullied him at school.
The brief clip captured by his mother while traveling in their car resulted in many celebrities from Hollywood to the nation's sports field and courts offering support to Jones after his plea for an end to the daily torment, senseless ridicule and physical altercations. The video began with Jones asking his mother, "Just out of curiosity, why do they bully?" Jones described having milk poured on his head and being called ugly for the head scars left from a tumor operation. "They make fun of my nose," Jones said. "They call me ugly. They say I have no friends."
Children suffer greatly from bullying
Since then Tennessee Titans tight end Delanie Walker has invited Jones and his family to the team's Dec. 31 game in Nashville against Jacksonville. University of Tennessee wide receiver Tyler Byrd tweeted that he and his teammates plan to visit Keaton at school; Tyler's teammate, quarterback Jarrett Guarantano shared a photo of himself visiting with Keaton, offering words of encouragement.
Other famous persons who were touched by Keaton's video included Cleveland Cavalier's star LeBron James, NASCAR great Dale Earnhardt Jr., actor Chris Evans, rapper Snoop Dog and a number of other high-profile names who have encouraged the boy to remain focused and positive and to not let bullying ruin his self esteem.
Bullying is a terrible experience for any person, but the act hits especially hard on impressionable children. Bullying behaviors emerge in early childhood. The National Bullying Prevention Center NBPC) estimates that more than one in five children (20.8 percent) report being bullied over any given year Sixty-four percent of these children did not report bullying situations and more than half of these experiences are only ended when a peer intervenes on behalf of the student being bullied.
The reasons for being bullied are numerous, but the most common reason is because of perceived "looks" (55 percent), body shape (37 percent) and race (16 percent). The NBPC Experts say these characteristics may include a personality that tends toward caution or shyness, introversion, low self-confidence, unhappiness and anxiety. Because bullies don't frequently have a large support network of friends (or may not have any close friends at all) they will often take out their frustrations over a lack of friends by picking on someone whom they may consider "weak" or "undesirable" among their peers. For boys, especially, being smaller or weaker can create the optimal target for the bully.
Girls often bullied because of image
The same Child Trends report found that bullying tends to shift based on sex and race. While boys and girls are equally likely to face physical intimidation, girls may face a larger chance of relational bullying (teasing or emotional aggression) and cyberbullying. This may stem from the way a girl looks, dresses or acts and it can be especially harsh if the girl tends to be overweight, tall or short for her age, or, in some circumstances, if she "fits in" to a certain image often determined by mass media advertising.