Bullying reaches epidemic proportions as more young people cry out for help
Take action, don't be an observer
Merdies Hayes Editor In Chief | 12/13/2017, 5:16 p.m.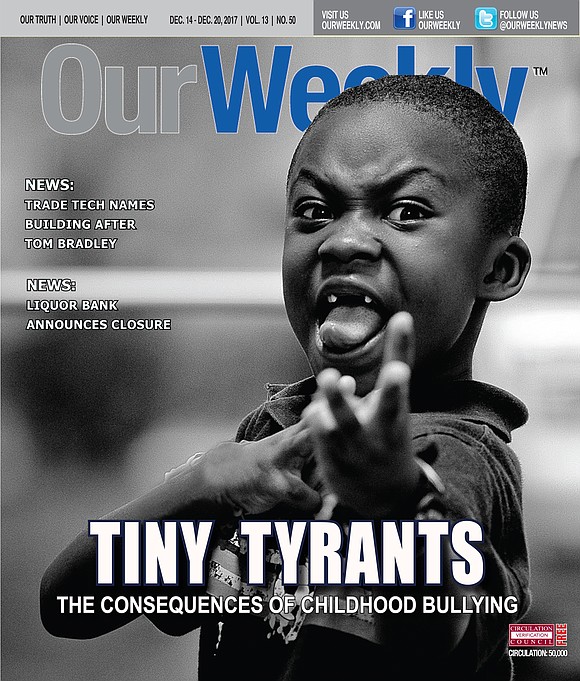 By now, millions of people around the world have likely seen the heartbreaking video of 11-year-old Tennessee native Keaton Jones who delivered a tearful rebuke to his classmates who have regularly bullied him at school.
The brief clip captured by his mother while traveling in their car resulted in many celebrities from Hollywood to the nation's sports field and courts offering support to Jones after his plea for an end to the daily torment, senseless ridicule and physical altercations. The video began with Jones asking his mother, "Just out of curiosity, why do they bully?" Jones described having milk poured on his head and being called ugly for the head scars left from a tumor operation. "They make fun of my nose," Jones said. "They call me ugly. They say I have no friends."
Children suffer greatly from bullying
Since then Tennessee Titans tight end Delanie Walker has invited Jones and his family to the team's Dec. 31 game in Nashville against Jacksonville. University of Tennessee wide receiver Tyler Byrd tweeted that he and his teammates plan to visit Keaton at school; Tyler's teammate, quarterback Jarrett Guarantano shared a photo of himself visiting with Keaton, offering words of encouragement.
Other famous persons who were touched by Keaton's video included Cleveland Cavalier's star LeBron James, NASCAR great Dale Earnhardt Jr., actor Chris Evans, rapper Snoop Dog and a number of other high-profile names who have encouraged the boy to remain focused and positive and to not let bullying ruin his self esteem.
Bullying is a terrible experience for any person, but the act hits especially hard on impressionable children. Bullying behaviors emerge in early childhood. The National Bullying Prevention Center NBPC) estimates that more than one in five children (20.8 percent) report being bullied over any given year Sixty-four percent of these children did not report bullying situations and more than half of these experiences are only ended when a peer intervenes on behalf of the student being bullied.
The reasons for being bullied are numerous, but the most common reason is because of perceived "looks" (55 percent), body shape (37 percent) and race (16 percent). The NBPC suggests that school-based bullying prevention programs can decrease the incidents by up to 25 percent.
Designed to harm self esteem
Regular bullying can take a serious toll on youngsters' self esteem. Research conducted by the Centers for Disease Control and Prevention (CDC) suggests that students who experience regular bullying are at increased risk for poor school adjustment, sleep difficulties, anxiety and depression. The research found that students who are both targets of bullying (and engage in the act) are at significantly greater risk for both mental health and behavior problems. As well, students who experience bullying are twice as likely as non-bullied peers to experience negative health effects such as headaches and stomachaches. Also, youth who "self-blame" or claimed that they deserved to be bullied are more likely to face negative outcomes, such as depression, prolonged victimization and maladjustment.
Cyberbulling has become an unfortunate byproduct of social media. Additional research conducted by the CDC found that 15.5 percent of high school students reported being cyberbullied; 20 percent of this digital activity reportedly takes place during the campus day. Twenty-four percent of middle school students surveyed reported being cyberbullied during school hours.