City of Lancaster announces the 'Evolution of The BLVD'
Downtown hub prepares to add new hotel, bar, theater and more
J.D. Williams OW Contributor | 12/7/2017, 4:33 p.m.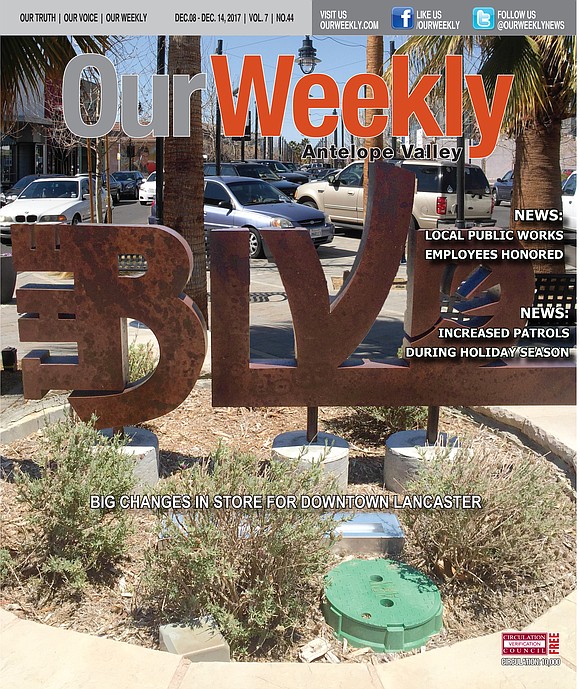 After speaking to many people who visit The BLVD, the developers determined the consensus was that a high-end Mexican kitchen and cantina would be the perfect addition to add more energy to The BLVD. With the recent addition of Starbucks and now a Marriott Residence Inn, Regency Theatres, and Buckles & Boots, the downtown area is expected to shine as a top dining and entertainment destination. All three concepts will have distinctive new unique menus, offering a variety of dining and entertainment options within the same complex. "The BLVD is no longer a community secret," added Ehrlich.
"All of these new additions will join existing pillars such as Kinetic Brewing Company and Pour d'Vino to lend a more eclectic and urban flavor to The BLVD's nightlife," said Tim Anders, co-owner of BeX and past president of The BLVD Association. "The BLVD has long been a gathering place for the Antelope Valley, a place where you can experience a true sense of community. We are looking to build on that firm foundation to create new opportunities to not only enjoy a great night out, but to connect with one another – all in a fresh and upscale setting."
At the announcement, Parris took the opportunity to thank Scott Ehrlich, Steve Eglash, and the entire InSite Development team crediting them with the success that downtown Lancaster has already become as a result of their vision, investment, and partnership with the city of Lancaster 
The mayor also acknowledged small business owners Tim Anders and Dorian Salazar of BeX, Underground Bowl and the lounge, who have consistently been supporters of The BLVD and the entire community, re-investing their time and money to help make Lancaster a better place.
"They all continue to work every day to improve our BLVD," said Parris.
Regency Theatres is slated to open this month, while Bex will remain open through the end of 2017. Renovations will then take place throughout the month of January. Ehrlich expects to have "Buckles & Boots" open by Super Bowl weekend. "At this point, the only thing The BLVD will be missing is high-end market rate apartments and condos. stay tuned," he hinted.
"On the heels of celebrating our 40th year of incorporation, we are definitely kicking off 2018 in style," said Lancaster Vice Mayor Marvin Crist. "Scott and his team are extremely dynamic, and have proven that they are more than capable of taking an idea and producing successful ventures within a very short period of time. With these changes, our vision for The BLVD has come to fruition better than ever before. It is not only the Entertainment Capital of the Antelope Valley; it is a place where friends meet, businesses thrive and the community comes together as one."
Since The BLVD was renovated in 2010, more than 60 businesses have either opened or relocated to the thriving downtown area. The BLVD has been recognized with a number of state, national, and even international awards, including the Environmental Protection Agency's National Award for Smart Growth Achievement and the International Downtown Association's Pinnacle Award. In addition, The BLVD was recently named a California Cultural District, a distinction bestowed upon only 14 destinations throughout the state.