City of Lancaster announces the 'Evolution of The BLVD'
Downtown hub prepares to add new hotel, bar, theater and more
J.D. Williams OW Contributor | 12/7/2017, 4:33 p.m.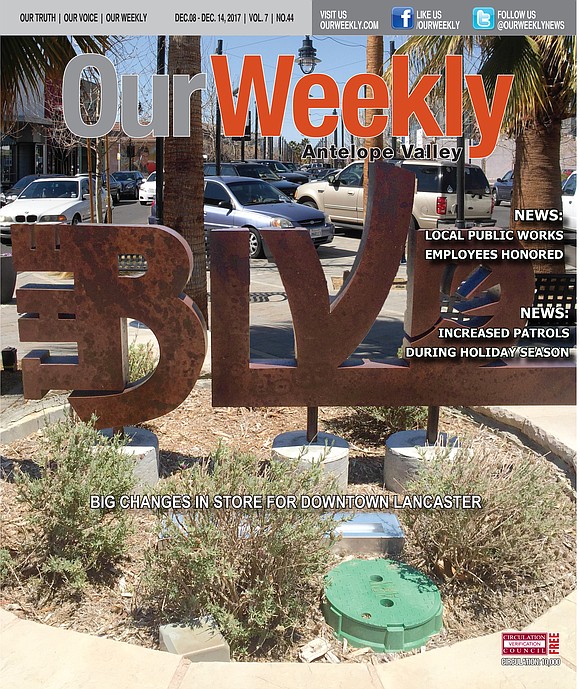 The city of Lancaster and InSite Development recently joined together to announce the next chapter in the evolution of The BLVD. A number of innovative concepts and big-name brands are slated to become part of downtown Lancaster's new and inviting downtown corridor.
"Since the streetscape project was completed in 2010, The BLVD has transformed from a resurgent downtown into a vibrant, thriving urban core," said Lancaster Mayor R. Rex Parris. "Yet even in those few short years, our world has changed. The needs and wants of our community have evolved. This next phase in the development of The BLVD takes into account those needs and seeks to provide all residents and visitors to the Antelope Valley, from Millennials on up, an array of exciting and unique experiences right here in Lancaster."
Perhaps the most significant change to The BLVD will be the addition of a newly constructed Marriott Residence Inn. The five-story, 105-room hotel will be located on the northwest corner of Gadsden Avenue and Lancaster Boulevard, adjacent to the recently opened Starbucks. The hotel will feature a rooftop pool, a high-end lobby and podium parking.
"Marriott Residence Inn is the number one performing select-service extended-stay hotel brand in the world. They do not simply hand out these franchises without performing thorough research into the city as well as the particular area it will be located," said Steve Eglash, partner of InSite Development. "Our research shows that people who stay at these hotels want to walk to dinner and entertainment, not drive. I wish I could snap my fingers and have it built today."
Another significant addition to the downtown's new attractions will be a Regency Theatre, which will take over the space used by the former BLVD Cinema. Renovation of the theatre has already begun and is expected to include new state-of-the-art electric reclining chairs and other upgrades to the tune of a $150,000 overhaul. Regency already operates 19 theatres throughout Southern California. 
The Forge department store space will be divided into smaller independent spaces to allow for more commercial opportunities to capitalize on the resurgence of commerce along The BLVD.
The BeX Bar & Grill Complex, which has for many years been one of the premier night spots for food and entertainment in downtown Lancaster, will undergo a complete transformation beginning in January 2018. RoShamBo Lounge will transform into "Buckles & Boots," a live country music venue modeled on perennially popular country western bars in locations such as San Diego's Gaslamp District and Pasadena's Old Town District. The Underground Bowling Lounge will receive a number of upgrades as well as a menu change to enhance its birthday, corporate and holiday party business. BeX Bar & Grill will become Don Sal's Mexican Restaurant, an upscale cantina relocating from nearby Kern County.
"We are always looking for new ways to heighten the experience of The BLVD," said Scott Ehrlich, partner of InSite Development. "We did a broad search to find fresh new concepts that will complement and enrich downtown Lancaster's nightlife opportunities, while also expanding the selection of dining and entertainment venues for our visitors."