Harvey strikes Houston as thousands of citizens scramble to safety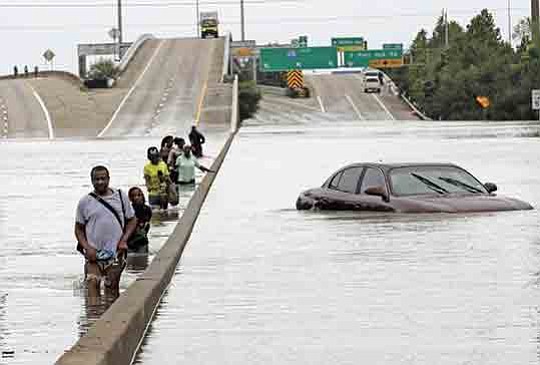 The biggest rainstorm in history to hit the U.S. mainland made a second landfall on Wednesday on the Gulf Coast, and is slowly moving away from Houston, Texas while inundating the southeast portion of the state and southwest Louisiana.
Now categorized as Tropical Storm Harvey, it is expected to weaken today as it moves north toward Mississippi and Tennessee as the National Hurricane center warned mid-week of "catastrophic and life-threatening" flooding. At press time, more than 20 persons were reported dead and tens of thousands of people in Houston and across southeast Louisiana have had to evacuate their homes. Officials fear many more fatalities as the waters recede in the coming days.
In Beaumont, Texas, about 85 miles east of Houston, a mother and child on Tuesday were swept away by high floodwaters after exiting their car near a flooded freeway. Witnesses reported the child clinging to its mother before police officers and fire rescue divers spotted them. The mother died and the child is listed in stable condition. A family of six is feared dead as violent floodwaters engulfed their vehicle as it left Houston and was pitched forward into the nearby Greens Bayou. Also, Sgt. Steve Perez, a 34-year veteran of the Houston Police Department, was drowned during the first 48 hours of the hurricane after tying to get to work through an underpass during the darkness.
Harvey is moving closer to neighboring Louisiana which this week will mark the 12 anniversary of Hurricane Katrina. New Orleans is still recovering from flooding after thunderstorms this month overwhelmed the city's drainage system.
Houston Mayor Sylvester Turner said there are more than 9,000 evacuees at the city's George R. Convention Center and more can be expected to converge at the Toyota Center, NRG Stadium and at various college university campuses.
"[Earlier] our focus was on rescue, and today our focus remains on rescue," Turner said this week. "We are not turning anyone away from our shelters." Turner said he has made an official request to FEMA for supplies, cots and food for an additional 10,000 evacuees. A midnight-to-6-a.m. curfew is in effect for Houston and surrounding suburbs.
President Donald Trump and First Lady Melania Trump visited Texas on Tuesday and promised swift federal aid. Since Hurricane Harvey made landfall on Aug. 25, more than 50 inches of rain has fallen, an amount representing more precipitation that the region usually sees in one year. In the suburb of Mt. Belvieu, just east of Houston, more than 52 inches of rain has been recorded since the storm blew in, breaking the highest previous record of 48 inches from 1978's Tropical Storm Amelia in Medina, Texas.
The disaster relief effort was well underway this week as celebrities ranging from pop star Beyonce, a Houston native, comedian Kevin Hart, and J.J. Watt of the Houston Texans have pledged financial assistance. Watt established a crowdfunding page to raise money, and then donated $100,000. At press time the amount of money raised was approaching $2 million.