Jerry Lewis steps out of character
Beloved star raised $1 million for Hurricane Katrina relief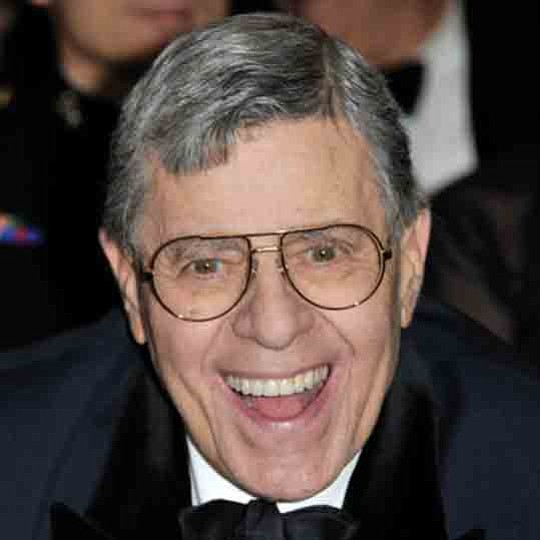 As he wrote in his 2005 memoir "Dean and Me: A Love Story": "I was tall, skinny, gawky; cute but funny-looking. I always saw the humor in things, the joke possibilities. At the same time, I didn't have the confidence to stand on a stage and talk." Lewis found that portraying the broad clown—wearing goofy wigs, pantomiming in an exaggerated fashion—opened up a rich vein of comic possibilities. "God hadn't made me handsome, but He's given me something, I always felt: funnybones."
Martin and Lewis made 16 movies over 10 years, each becoming major stars by juxtaposing Martin's leading-man demeanor with Lewis' screwball tomfoolery. The partnership ended in 1956—and the two famously didn't speak to one another for the next 20 years until being reunited by Frank Sinatra during the annual Jerry Lewis MDA Labor Day Telethon. Lewis hosted this event from 1956 through 2011, in the process raising more than $2.6 billion. In 1977, Lewis was nominated for a Nobel Peace Prize for his charitable work.
"Though we will miss him beyond measure, we suspect that somewhere in Heaven, he's already urging the angels to give 'just one dollar more for my kids.' Thank you Jerry, you are our hero. God bless you," said MDA Chairman Rodney Howell.
The MDA's kind words upon Lewis' death stand in stark contrast to the abrupt and bitter end to hosting the iconic fundraiser. He was suddenly fired in 2012 and denied a farewell show. Lewis never discussed the ouster nor did he give an extended interview on the matter, only saying afterwards, "they've made their decision and I must respect that."
Lewis once said his brand of physical comedy, later adopted by a number of popular performers including Dick Van Dyke's "Rob Petrie," Penny Marshall's "Laverne DeFazio," Cindy Williams' "Shirley Feeney," John Ritter's "Jack Tripper," and even Jaleel White's "Steve Urkel" came from a childhood desire to make people laugh.
 "I look at the world through a child's eyes because I'm nine," Lewis told Reuters news agency in 2002. "I stayed that way. I made a career out of it. It's a wonderful place to be."
Jerry Lewis, caught the acting bug early, appearing on stage with his parents, Danny and Rae Levitch, when he was 6 years old. His mother was a pianist and his father was a song-and-danceman, and Lewis made his stage debut in the summer of 1932 singing the Depression-era anthem "Brother, Can You Spare A Dime?" at a Jewish resort hotel. At age 12, Lewis began to demonstrate his ability to make people laugh while working as a "tea boy" at a resort hotel in Lakewood, NJ where his father was performing for the winter. Lewis and two waiters would do comedic parodies of current movies for the guests in the hotel lobby. Later with Dean Martin, he would revive this act as Martin would sing and Lewis, dressed as a waiter, would do signature pratfalls while pretending to serve guests. The audience roared with laughter.
Lewis always admitted he was a "class clown" which was probably why he was expelled from school at age 15. He reportedly dropped out of a vocational high school just shy of his 16th birthday to make a go of it in show business. He got some early bookings in New York City with a lip-synch act in which he mugged outlandishly to records by Betty Hutton, Frank Sinatra, Carmen Miranda and opera star Igor Gorin. By the time he was booked into the 500 Club in Atlantic City in 1946, Lewis was 20 but still struggling to make his mark in show business. By then he and wife, Patti, had a year-old son (Gary, later frontman of the 60s pop group Gary Lewis and the Playboys) and one evening a singer on the bill at the club recommended to Lewis a singer that might be helpful to his act. That singer was Dean Martin who, himself, had a knack for comedy. "A handsome man and a monkey," Lewis later described the heavily improvised act he and Martin began crafting. They were an immediate hit. In his 1982 autobiography "Jerry Lewis in Person," he recalled the madcap monkeyshines:
"We'd juggle and drop dishes...and try a few handstands. I conduct the three-piece band with one of my shoes, burn their music, jump offstage, run 'round the tables, sit with the customers and spill things while Dean keeps singing."
From the start Lewis received the lion's share of the attention from reviewers. When they hosted their first "Colgate Comedy Hour," a New York Times review referred to Lewis as the team's "works," while Martin was simply the "competent" straight man. In his autobiography, Lewis said the public really didn't understand Martin's "brilliance" as a straight man in describing his ex-partner as "the greatest straight man in the history of show business."
In time as they continued making pictures, doing television and making nightclub appearances, Martin eventually grew tired of "playing a stooge," tired of Lewis being singled out as the "crazy, funny" one and, in fact, tired of Lewis himself. By the time of "Hollywood or Bust," Martin reportedly told Lewis: "You're nothing to me but a...dollar sign."