Across Black America Week of Aug. 24, 2017.
Carol Ozemhoya | OW Contributor | 8/24/2017, midnight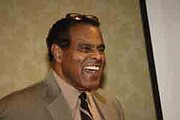 California, Indiana
Tommy Hawkins, the first Black basketball player to earn All-America honors at Notre Dame who ended up playing for the Los Angeles Lakers, died Aug. 16 at his home in Malibu. He was 80. He had been in good health and had gone to lay down to rest before he died, his son Kevin said. Hawkins graduated from Notre Dame in 1959 after playing three years on the basketball team. He had 1,318 career rebounds for the longest-standing record in Fighting Irish history. He was named to the school's All-Century team in 2004 and inducted into its Ring of Honor in 2015. He led the Irish to a 44-13 record over his last two seasons, including an Elite Eight berth in the 1958 NCAA Championship. The history of Hawkins contains a bit of civil rights. Hawkins became close with Notre Dame president Theodore Hesburgh, who served from 1952-87. Hesburgh was supportive when Hawkins was dating a White woman from nearby Saint Mary's College, and they were turned away from a South Bend restaurant that wouldn't allow the interracial couple to dine. "That act led Father Hesburgh to ban Notre Dame (students) from eating there until my father got a public apology," Kevin told the AP by phone. "Notre Dame walked the walk when you talk about civil rights. That meant the world to him." Kevin said his father's basketball teammate and future NFL Hall of Famer Paul Hornung led Hawkins back to the restaurant to receive the apology.
District of Columbia
Vernard Gray seethes with frustration every time he hears people talk about certain historic D.C. neighborhoods as "up and coming," as if to completely overwrite the history of long-time residents who have called the places home for decades. That is why Gray, 76, an African American D.C. native, artist, curator and longtime cultural activist in the local arts community, has just launched a website called Made East River that offers a comprehensive directory of people who make artistic products or offer creative services in Wards 7 and 8, reports the Washington Post. "We've got stuff of value east of the river," he said. "Let's discover it. Let's explore it. Let's make something happen." Gray has picked a pivotal time to start his project. In the face of rapidly encroaching gentrification in Southeast — and with it, the threat of massive change and displacement — he is hoping that Made East River will help the area take charge of its culture and history and preserve a narrative directed by African-American residents. Majority-Black Southeast is too often treated "like the backwater of the city," Gray said. "Gentrification is happening. There's no way of stopping it. But when they show up, they'll think, 'Okay, there's something happening here.' And they've got to honor that." To promote his website, Gray has reached out to local artists, emailed community listservs and distributed fliers around Southeast. If the website doesn't take off, Gray has backup ideas, among them hosting workshops where local artists can share their knowledge with residents.