Community Conservation Corps. takes area youth on worthwhile adventures
Learning how to maintain the natural world
8/18/2017, midnight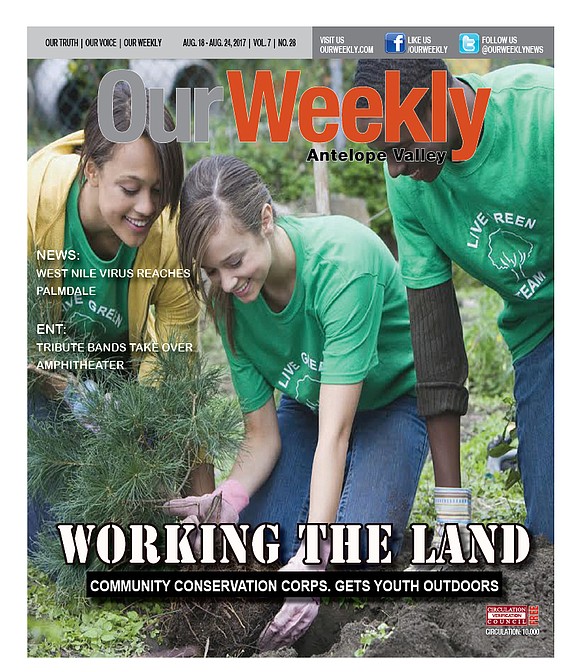 Today's young people have lots of options to keep them occupied. If it's not Twitter, it's Facebook. If it's not Skype, it's Spotify. IPhones, Androids, laptops, tablets ... the list seems to grow each month. All of these attractions, though, tend to keep young people in an insular, self-involved orbit that they rarely stray from. In the Antelope Valley, however, the Local Community Conservation Corp. (LCCCAV) is trying to change that dynamic by exposing youth to something bigger than themselves. They're taking to the outdoors to teach teenagers and young adults about the environment and, along the way, maybe instill within them a love of the natural world.
The LCCCAV takes these young people, 18 to 25 years old, and works to break the cycle of lack of education and poverty that too often leads to prison. The program was the brainchild of Advancing Communities Together (ACT) which wanted to provide education up to a high school diploma and the potential to earn an hourly wage while developing leadership skills. The young men and women experience a chance for personal growth while gaining valuable marketing knowledge and skills so vital to a productive life. Rossie Cherry, well known in the area as executive director of ACT and for his work with AV Youth Build, oversees the LCCCAV and uses innovative approaches to teach the value of conserving resources, how to save energy, reduce greenhouse gas emissions, and to instill cost-effective solutions that allow the youth to learn about and serve their community through environmental work.
Youth and the environment
"It's an innovative and inspiring course that allows these kids to work toward their high school diploma, earn an hourly wage and learn about the natural environment," Cherry said. The youth are enrolled for a maximum of 24 months, earn $10.50 an hour for their community work, and come from practically all over the Antelope Valley. Most of them have dropped out of school, are unemployed, and could be considered "at risk" for gang involvement, drug and alcohol addiction and a criminal record. Cherry said getting the kids involved in a worthwhile, valuable program of personal growth is one of the best ways to prevent the revolving cycle of the "school-to-prison pipeline" so often referred to when discussing youth from low-income neighborhoods.
"We want to teach leadership. These young people have the potential for great things if only given a chance," Cherry explained. "We stress the value of taking responsibility for yourself, your family and your community. We want to eliminate those 'personal barriers' that so often hinder potential in our youth."
Besides the obvious environmental work involved, the youth also learn parenting skills which most of the participants were never exposed to. They learn teamwork and dedication to a task whether its tree planting, brush clearing, trail maintenance, upkeep of rural or urban parks, or simply learning to appreciate the natural desert landscape. Cherry said the desert locale is a perfect venue for teaching about environmentalism.
"The Antelope Valley is the perfect environment to learn about the natural world and why it is so important to maintain it in pristine condition," Cherry noted. "We are in the desert, and in proximity to the forest area with the Tehachapi Mountains nearby. These young people are learning valuable skills that they can carry with them throughout their lives. We challenge these kids to 'come out of the box' and take an extra step in life."