Thug Messiah: The myth and legend of Tupac Shakur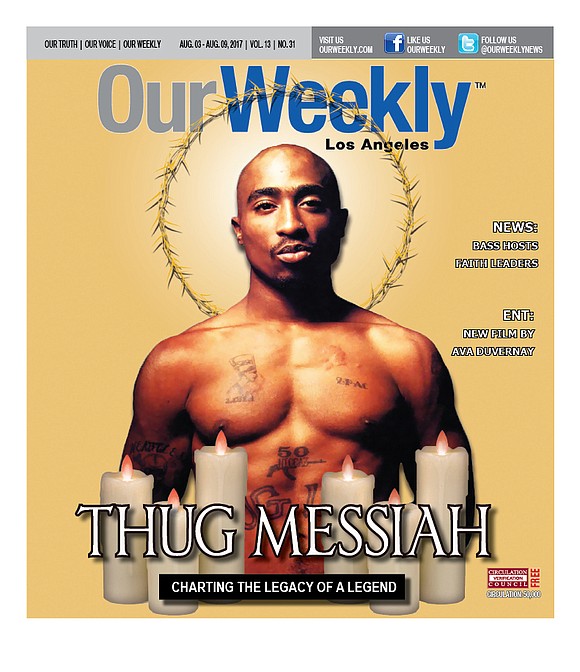 Beyond the bling
"And even as a crack fiend, mama, you always was a Black queen, mama."
—from 1996's "Dear Mama," by Tupac Shakur
One thing that distinguished Shakur from his peers was his willingness to address issues outside the glorification of a hedonistic lifestyle typical in the hip hop/rap community. The seeds for this were sown through his upbringing.
Born into a family of activists/radicals (his godfather being the legendary militant Elmer "Geronimo" Pratt), his mother Afeni (born as Alice Faye Williams) was one of the (Black) "Panther 21" accused of radical bombings in New York, and acquitted of these charges just before he was born (as Lesane Parish Crooks) in 1971.
Renamed Tupac Amaru Shakur (after a Peruvian revolutionary from the 18th century) his childhood in Harlem, N.Y., and Baltimore, Md., was characterized by his dual participation in activism and the arts (acting, ballet, and poetry). Far from a mere, impressionable youth,
Upon relocating to California's Marin County, he diligently sold newspapers for and became the youngest chairman of the New African Panthers. At 17 years old, he was committed to carrying the family mantel of activism long before he achieved stardom. Afeni's social obligation and drug addiction were memorably referenced in his 1996 album "Me Against the World" with the song "Dear Mama."
Like his mother, Tupac Shakur struggled with the duality of his personality during the course of his life.
One theory put forward by author John L. Potash has Shakur being singled out by the authorities for this activism-and his insistence on addressing social issues affecting the Black community. A clinical social worker by training, Potash was not a fan of the fallen icon's music as a youth. His work with substance abuse counseling, led him to the conviction that prominent cultural figures were being neutralized because they impeded the use of narcotics as a method of social control.
Through his books "The FBI War on Tupac Shakur and Black Leaders: U.S. Intelligence's Murderous Targeting of Tupac, MLK, Malcolm, Panthers, Hendrix, Marley, Rappers and Linked Ethnic Leftists (2008)," and "Drugs as Weapons Against Us: The CIA's Murderous Targeting of SDS, Panthers, Hendrix, Lennon, Cobain, Tupac, and Other Leftists (2015)," Potash explores the hypothesis that leftists—especially minority leftists were targeted by nefarious entities intent on maintaining the status quo. In subsequent interviews, Potash has claimed that "hip-hop task forces" operated in Los Angeles and New York City" much like COINTELPRO units infiltrated, and disrupted American political organizations in a prior generation.
Potash suggests this might even be a factor behind the death of pop singer Kurt Cobain (whose use of heroin encouraged the embrace of that substance by Caucasian fans of the "grunge rock" movement), and possibly an issue in the demise of Beatle John Lennon.
He points out that during the 1992 gang truce between the Bloods and Crips, Shakur devised a system of ethics or regulations under the title, the "code of thug life" to instill a sense of community, reduce violence, and make the 'hood a more humane place to live. This was entirely oppositional to the glorification of brutality that was a staple of rap lyrics up to that point.