Hollywood by Choice
Ava DuVernay - "A Wrinkle in Time"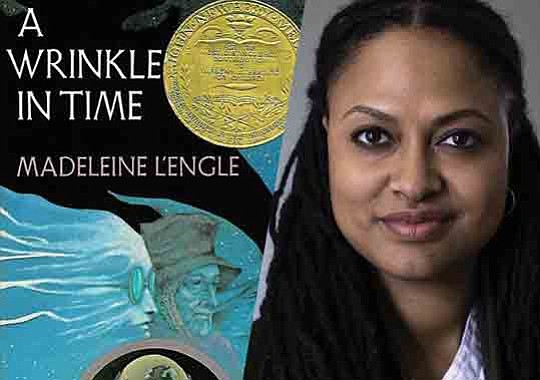 Hollywood is all abuzz about Disney's latest trailer that was recently released online featuring writer/producer/director Ava DuVernay's most anticipated film project to date, "A Wrinkle in Time."
The 1963 classic children's fantasy written by Madeleine L'Engle follows a little girl's search across dimensions of time and space to rescue her scientist father.
Everyone in Hollywood is talking about the fact that Ava DuVernay will be the first Black woman to helm a live-action feature with a budget of more than $100 million. Only two other women have directed live-action films with a budget in this range. Kathryn Bigelow was the first in 2002 with "K-19: The Widowmaker." Patty Jenkins is the second with "Wonder Woman." And now Ava DuVernay will be the third. And she'll be the first woman of color.

Once again, DuVernay is making history. A distributor of independent films, DuVernay has made a name for herself by staying true to her convictions.
In 2017, DuVernay was named one of Fortune Magazine's 50 Greatest World Leaders. A graduate of UCLA, DuVernay is the founder of ARRAY, a grassroots distribution and advocacy collective dedicated to the amplification of films by people of color and women. ARRAY was named one of Fast Company's Most Innovative firms.
Speaking of her convictions, DuVernay produces "Queen Sugar," the award-winning family drama on Oprah Winfrey's Network (OWN). It is a well-known fact that for Season 2 of "Queen Sugar," which recently returned, DuVernay was again determined to give more women—especially gay women and women of color—the chance to work. Instead of going through the typical Hollywood channels, she sought filmmakers whose intimate, character-driven work had inspired her over the years, even resorting to tracking people down through Twitter.
"The "Queen Sugar" roster includes women who rank as some of the greatest independent filmmakers to come out of the festival circuit in the last 10 years but have nevertheless, struggled to work in the business," says DuVernay. "Directing the show represents a chance for these directors to hone their craft, gain experience and stay busy in an industry where you're only as good as your last credit. It puts you in the game; you can't play if you're on the sidelines."
If there is one thing DuVernay understands is the importance of getting your name and what you do out to the movers and shakers of the Hollywood system. Prior to filmmaking, DuVernay worked as a marketer and publicist for 14 years. She knows the 'lingo' and what is considered important to the Hollywood powers that be.
DuVernay made her directorial debut with the critically-acclaimed 2008 hip hop documentary, "This is the Life" and has directed several network documentaries, including Venus VS for ESPN. She has directed significant short form works including "August 28: A Day in the Life of a People" commissioned by The Smithsonian's National Museum of African American History and Culture as well as acclaimed fashion and beauty films for Fashion Fair and Prada.
Here's a brief list of Ava DuVernay's accomplishments that reflect her rise to the top; "Middle of Nowhere" (2012) won the Best Director Prize at the 2012 Sundance film festival, making her the first Black woman to receive the award. She is the first Black female director to be nominated for a Golden Globe Award. In 2014, DuVernay directed the historical drama "SELMA," which garnered four Golden Globe nominations and two Academy Award nominations, including Best Picture. Nominated for the Academy Award and winner of a Peabody Award as well as the BAFTA for Best Documentary, Ava DuVernay's "13TH" is one of the most critically-acclaimed films of 2016.