Across Black America Week of Aug. 3, 2017
Carol Ozemhoya | OW Contributor | 8/3/2017, midnight
Alabama
Greene County celebrated its annual Freedom Day Festival on July 29, with Black leaders looking two years down the road when they'll have something really special to salute, reports the Montgomery Advertiser. That's when they mark the 50th anniversary of Black political control in a county where the White minority had always ruled. Greene is Alabama's smallest county with 8,422 residents. Racially, Blacks represent 80.6 percent of the population. "The question was whether Blacks could control themselves politically and that has been answered convincingly," said activist Wendell Paris who was the guest speaker at the event. He said Black candidates who registered for political office in the late 1960s showed "real courage" at a time when White officials tried their best to maintain minority control. Saturday's celebration marked the 48th anniversary of the Voting Rights Act that eliminated unfair practices in Alabama elections as well as states across the country. Paris, a dual citizen in Alabama and Mississippi, has been an outspoken activist for many years and has kept tabs on developments in both states.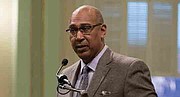 California
Latino and Black state lawmakers are calling on gubernatorial candidates to publicly state their opinion about affirmative action, injecting into the 2018 contest a potentially volatile racial issue that previously splintered California Democrats, reports the Los Angeles Times. "Each of our caucuses, as you may know, is driven by a mission to further the interests of all Californians through advocacy for programs and policies that promote diversity and empowerment. To that end, we would appreciate your candid thoughts and official position on affirmative action and related topics," wrote state Sen. Ben Hueso and state Assemblyman Chris Holden, the chairmen of the Latino and Black legislative caucuses respectively, to the six most prominent gubernatorial candidates. The candidates are being asked to describe their views on affirmative action, their thoughts on the ramifications of the 1996 law that bans its use at publicly funded colleges and universities, their track record on diversity and equity efforts, and specific proposals they would try to enact on such matters in schools, state government, businesses and nonprofits, if elected governor. A 2003 report by the University of California found that implementing race-neutral admissions policies led to a "substantial decline" in the proportion of Black, Latino and American Indian students entering the system's most selective institutions. The question raises a 2014 effort led by Latino and Black Democratic members of the Legislature to repeal the ban on affirmative action. While polling shows that Democratic voters tend to favor efforts to increase opportunities for underrepresented minorities, schisms emerged on racial lines in the party when state lawmakers tried to repeal the ban.
Georgia
A Black waitress working a private event in Georgia was infuriated when a guest drew a swastika on a menu and handed it to her during her shift. Shelley Sidney said she was waiting on a private party at Antica Posta last week when the incident occurred. "I get to the last person in the party, and they give me a menu that has a swastika drawn on it," Sidney told WSB-TV. Immediately after she saw the hateful message, Sidney told her boss and restaurant owner Marco Betti about the drawing and that she wanted him to kick out the guest. However, Betti instead cited freedom of speech and said he could not remove them. "I was hurt and frustrated," Sidney told WSB. Sidney returned to work the event, where she said she also heard a guest use the n-word and other derogatory comments. "I was really in tears when I was overhearing the conversations, the private conversations of just how horrible Black people are, immigrants are, gay people are," Sidney told WSB. Sidney went back to Betti and told him she would no longer serve the guests. The restaurant's attorney, Manny Arora, said Betti acknowledged her request and put someone else on the party. During the event, other staff members said they saw books displayed in the room and researched the author who was hosting the event. As it turns out, the author is known Holocaust denier David Irving.