Bring brunch home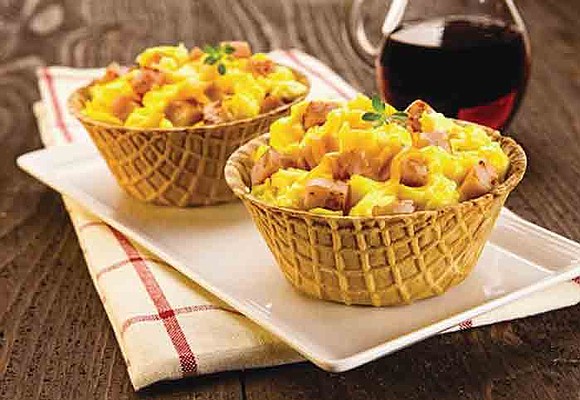 Lightly beat one egg with water and brush outside frames of pastry with egg wash. Slightly overlapping framed pastry borders, equally divide and arrange sausage, asparagus and tomatoes in pastry squares, leaving centers open for eggs. Top each with cracked egg, seasoning with salt and pepper and sprinkling with cheese, if desired.
Return to oven and bake 8-10 minutes, or until puff pastry is golden brown and eggs have just set. Let cool slightly and transfer tarts with spatula to serving plate and serve warm.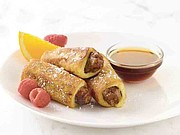 Cinnamon French Toast sausage roll-ups
12 Smithfield Fresh Sausage Links
2 eggs
2/3 cup milk
3 tablespoons almond liquor (optional)
1/2 teaspoon ground cinnamon
6 slices whole-wheat bread, crust removed and cut in half
3 tablespoons butter
Cook sausage according to package directions; keep warm.
Beat together eggs, milk, almond liquor and cinnamon. Dip one bread slice half in egg mixture and wrap around one sausage link. Press bread edges together where they overlap to keep from unrolling. Repeat with remaining bread and sausage links.
Heat large skillet over medium heat; add butter and let melt. Place French toast-wrapped sausages in skillet, seam-side down. Cook until browned on all sides, about 10 minutes total.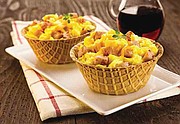 Scrambled eggs and ham in a waffle cup
6 eggs
1/2 cup milk
1/2 cup sharp cheddar cheese, shredded
1/2 teaspoon salt
1/2 teaspoon pepper
2 cups Smithfield Honey Cured Boneless Ham
Steak, diced
1 tablespoon butter
8 waffle cups (4 ounces each)
4 teaspoons maple syrup, warm, divided
1 teaspoon fresh thyme, chopped
In bowl, whisk together eggs, milk, cheese, salt and pepper; stir in ham.
In 10-inch, nonstick skillet, melt butter over medium-high heat. Add egg mixture; reduce heat to medium-low.
Using wooden spoon, scrape eggs from edges of pan to center. Continue stirring eggs 3-5 minutes, or until fluffy.
Scoop 1/2 cup warm scrambled eggs into waffle cup and drizzle with 1/2 teaspoon maple syrup. Garnish with fresh thyme leaves. Repeat for each waffle cup.
Boost brunch with a Bloody Mary bar
Premium ingredients and worthwhile recipes are a great way to make brunch at home, and adding a Bloody Mary bar to the mix is one way to give your spread extra flair. Provide your guests multiple options for toppings so they can perfectly customize their adult beverages with garnishes like these:
• Salt (plain or flavored)
• Pepper
• Horseradish
• Smithfield Hometown Original Bacon
• Celery stalks
• Worcestershire sauce
• Lemons
• Limes
• Hot sauces
• Stuffed olives
• Pickled green beans
• Pickle spears
• Onions
• Cheese cubes
• Cherry tomatoes