LA County declares May 2 as 'Day to Change Direction'
Day of Dialogue and Global Summit to advance understanding of mental health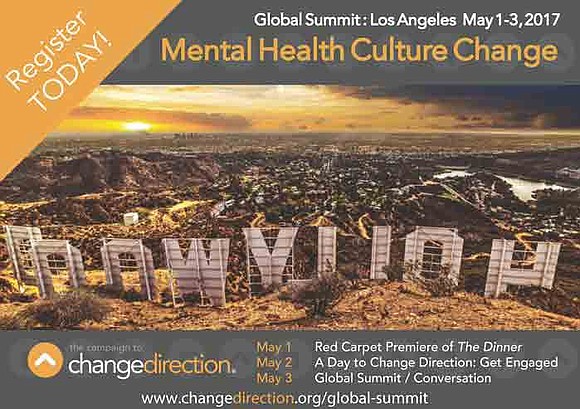 The LA County Board of Supervisors has proclaimed May 2nd as the "Day to Change Direction" for emotional well-being and has directed Jonathan Sherin, M.D. Ph.D., Director, LA County Department of Mental Health (DMH), to oversee a countywide discussion to advance a culture of awareness, understanding and dialogue around mental health issues and improve access to care for those living with a mental illness.
DMH, in partnership with Give an Hour and the Campaign to Change Direction (ChangeDirection.org/engage-la/), will create opportunities to engage, educate and inspire, focusing on five specific populations: youth, veterans, homeless, refugees and immigrants and seniors.
DMH and the Campaign to Change Direction urge everyone to change the way we view mental health issues in our communities in five ways:
Create dialogue around: barriers around access to care, encouraging care of those we love and ourselves; and building community awareness.

Learn the five signs of emotional suffering, including: personality changes; uncharacteristic anger, anxiety, agitation or mood; isolation; poor self-care and risky behavior; and hopelessness.

Learn healthy habits: proper eating, sleeping and activity, getting emotional check-ups; engaging and connecting wisely in relationships; relaxing to reduce stress; learning the five signs of emotional suffering and ways to reach out, connect and offer to help those that might be experiencing challenges.

Choose an idea to set the stage in your community

Get engaged. Register at www.changedirection.org/engage-la/; take photos and post to social media using #ChangeMentalHealth; and share this with others.
"The goal is to create opportunities to engage, educate and inspire individuals and organizations throughout Los Angeles County to discuss emotional well-being of youth, veterans, homeless, refugees and immigrants and seniors," stated Dr. Sherin. "This campaign aims to increase recognition of suffering in our communities by looking for the five signs and to decrease suffering by learning the five healthy habits."
The following events offer a way to participate in the campaign. Engagement activities will invite our county partners, corporate supporters, non-profit friends, celebrity champions – and everyday citizens – to join us at events across Los Angeles County.
May 1:
6:30 p.m. – Writer's Guild Theater, 135 S. Doheny Drive, Beverly Hills. Red carpet screening of the U.S. premiere of "The Dinner," a film based on the best-selling novel by Herman Koch. Starring Richard Gere, Laura Linney, Steve Coogan and Rebecca Hall, "The Dinner" is a powerful psychological thriller that explores the consequences of unaddressed trauma and mental illness in the lives of two families. Oren Moverman's eagerly anticipated film will provide the perfect beginning for this three-day series of events.
May 2:
9 a.m. - Kenneth Hahn Hall of Administration, 500 W. Temple. LA County Board Supervisors Ridley-Thomas and Kathryn Barger will honor Change Direction representatives .
LACDMH Wellness Centers inspire dialogue around the County – for list of events, click here.
May 3:
7:30 a.m.-5 p.m. – Los Angeles County Museum of Art, Bing Theater, 5905 Wilshire Blvd. Global Summit on Mental Health Culture Change. The entertainment community joins thought leaders and stakeholders for a day filled with conversations, performances and experiences. The Summit will explore cultural barriers across and within groups – and examine innovative programs, inspirational movements and unique opportunities to promote and normalize conversations around mental health.