'Bronzeville, Little Tokyo' serves up WWII L.A.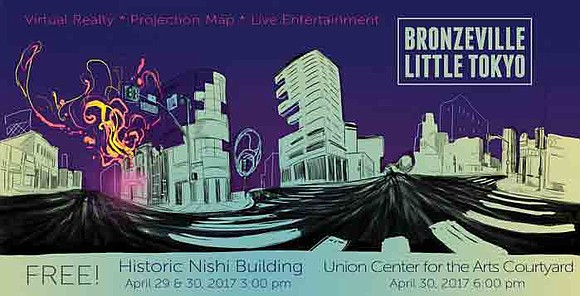 During the same time period, "BRONZE, BRASS, JAZZ," a virtual reality animation executed by CalArts/USC alum Javier Barboza and Kaleidoscope Media Studio, will be screened.
It conjures up the breakfast clubs and fabled musicians of that bygone era, in a contemporary incantation of the storytelling tradition. Santos anticipates this cutting edge media may "…increase engagement and participation and to also create a space for healing and connection."
"I hope that people will gain a greater awareness and respect for this place that is Little Tokyo, for what it was, what it is and what it can become," she continues.
"I also hope people will come away with a broader sense of community beyond ethnic identity." A special treat will be a Sunday performance by a quintet organized especially for this event at 6 p.m. Dubbed "The Bronzeville Union," it features Josef Leimberg on trumpet, alto saxophonist Josh Johnson, Mark de Clive-Lowe on the keyboard, Trevor Ware on bass, and bandleader Dexter Story on drums.
"I've been listening to a lot of the music from that period to inspire my original compositions [specifically commissioned by the festival]," Story says.
Most of this research involved reading the historical narrative, as there is little recorded material from the era aside from "Charlie Parker At The Finale Club," featuring Miles Davis.
This research compiled has led him to conclude that "…(the war era) was not a happy time for humanity."
This sentiment will no doubt impact Sunday's performance.
"All the music we play is not gonna be happy," Story cautions.
One composition written specifically for the occasion is titled "Executive Order 9066," a tune he describes as "…a slow Japanese dirge [a song or hymn of grief for a funeral]."
The 33rd Los Angeles Asian Pacific Film Festival takes place April 27 – May 4, 2017. "Bronzeville, Little Tokyo" will be held on Saturday April 29, and Sunday April 30. For more information, access the website at http://www.fffmedia.com/bronzeville.