'Bronzeville, Little Tokyo' serves up WWII L.A.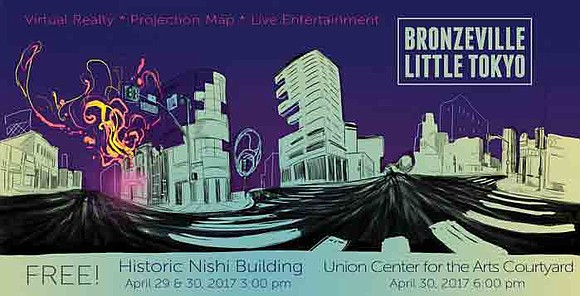 As the 33rd iteration of the Los Angeles Asian Pacific Film Festival (http://festival.vconline.org/2017/) gets underway today through May 3, a special presentation within the extravaganza resurrects the often overlooked travesty of forced relocation and internment of Japanese American citizens to camps in the western United States, during World War II. An equally unknown facet of this dark chapter of "the last good war," is the part that African Americans played in filling the void, however briefly, left by the unfortunates stripped of land and property in the name of national security.
One sign of our current collective progress is that the present focus on race relations, traditionally a diametrical opposition between Blacks and Whites (with both races bearing national roots going back at least to the 1800s), is now a more heterogeneous "bouillabaisse" of many immigrant populations, many who've relocated here within the last half-century.
That said, there are historical antecedents in our past from which to study, and perhaps provide solutions to negotiate these precarious times. Seventy odd years ago, President Franklin D. Roosevelt succumbed to the national panic by arranging for the mass incarceration of over 100,000 Japanese and Japanese Americans in "internment camps" throughout the inland western United States. Thousands of loyal citizens were forced to leave their homes and property in the wake of Executive Order 9066 in March of 1942.
The four-acre enclave known as "Little Tokyo," bounded by Central Avenue, First Street, and San Pedro Street became deserted, to be repopulated by droves of African and Latino Americans lured by defense industry jobs vacated by the wartime draft. Dubbed "Bronzeville," it became a cultural hub as scores of "breakfast clubs" sprouted up offering live music.
Bronzeville lasted a mere three years, as the end of hostilities meant Blacks would be laid off to open employment for returning war veterans. The internment camps closed, and the transition reversed as Bronzeville transitioned back into Little Tokyo.
This year, the Asian Pacific Film Festival repackages this dormant history via contemporary technology. Local media companies "FORM follows Function," and "Visual Communications" have mounted a two-day commemoration of Bronzeville on April 29 and 30 at the historic Nishi Building (at First and Central), and the Union Center for the Arts (First and San Pedro).
Maya Santos of FORM follows Function notes that this is their second year designing site-specific installations for the film festival. The 2017 offering is much more elaborate.
"We also expanded our exhibition to include not only projection mapping, and VR but also live music, a theatrical reading (with readings from the play "Bronzeville" by the Robey Theatre Company), an altar, and an open mic as a result of a much more expanded community partnership and collaboration," she says.
This year's version features "MEMORY BANK," a projection mapping installation allowing guests to view significant individuals from the community as they share memories of that time and place via an open microphone. This two day interactive event is open to attendees of all ages between 3 and 10 p.m. (Saturday), and 3 and 8 p.m. (Sunday).