The many woes of Wells Fargo Bank: Part I
Dr. John E. Warren | Intergovernmental Affairs Contributor to NNPA | 4/13/2017, midnight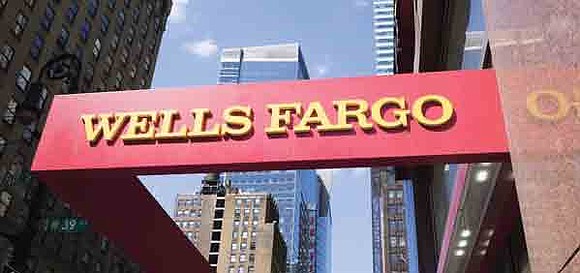 On Tuesday March 28, 2017, The Office of the Comptroller of the Currency downgraded Wells Fargo Bank's rating from an "Outstanding" to a "Needs to Improve" rating which the bank had previously enjoyed under the Community Reinvestment Act. The Office of the Comptroller of the Currency is an independent government agency within the U.S. Treasury Department that supervises all banks and federal savings associations. Although action comes on the heels of an agreement by Wells Fargo Bank to pay $110 million to settle a lawsuit against it by customers who filed a class action suit for the opening of fake bank accounts in their names, this is just another one of many lawsuits against the bank in recent months and years. The amount might seem small compared to the revelation last September that the bank had opened over 2 million fake accounts in customer names and without their permission.
In a separate lawsuit in September 2016, Wells Fargo agreed to pay $185 million in fines and penalties to federal regulators and the Los Angeles City Attorney's office for "unreasonable sales practices". The two actions come to a total of $295 million dollars. This latest settlement covers at least 10 other lawsuits.
The period covered by the $110 million settlement begins on January 1, 2009 and ends upon the execution of the settlement agreement put forth on Tuesday, if accepted by the court and the parties involved. These payouts are on top of the $3.2 million Wells Fargo has paid to customers on over 130,000 potentially unauthorized accounts or services.
This latest settlement agreement is important in that it represents the bank moving away from "forced arbitration," which is in the small print of its agreements. It is reported that this practice allows companies like Wells Fargo to hide mis-behavior in private mediation rather than opening it up to public scrutiny in court.
The closer you look at Wells Fargo, the further back its problems go. For instance, in addition to what has been stated here, reports and articles on Wells Fargo Bank show that on September 26, 2016, six former Wells Fargo Bank employees filed lawsuit in federal court against the bank for $7.2 billion, or more, for workers nationwide who were fired or demoted after refusing to open fake accounts. This particular suit accused the bank of "orchestrating a fraudulent scheme to boost its stock price that forced employees to "choose between keeping their jobs and opening unauthorized accounts."
The following provides greater insight into how Wells Fargo has dealt with or treated its employees. Some of the legal allegations arising from such conduct included (1) wrongful termination, (2) violation of California labor code, and (3) failure to pay wages and other charges. The employees represented in the lawsuit had worked at Wells Fargo either during the past 10 years or continued to work there until they were fired, demoted or forced to resign due to not meeting sales quotas.
The federal class action, which is separate from that cited above, alleged that Wells Fargo violated; (1) Dodd-Frank Wall Street Reform and Consumer Protection Act, and a section of Sarbanes-Oxley Act, prohibiting retaliation against whistleblowers and violated the overtime provisions of the Fair Labor Standards Act covering hours of work. These lawsuits paint a far different picture than the one Wells Fargo offers of firing 5000 employees after the investigation into the fake accounts. That action suggested that the employees fired did the fake bank accounts on their own and without the bank's knowledge or participation.