Across Black America Week of April 13, 2017.
Carol Ozemhoya | OW Contributor | 4/13/2017, midnight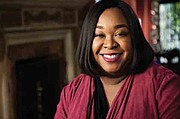 California
When Planned Parenthood President Cecile Richards asked Shonda Rhimes to join the health care organization's national board, Rhimes responded with the word she wrote the book on: a resounding "yes." The two powerhouse women talked to Elle magazine about why Rhimes ended up joining the national board after volunteering for the Los Angeles board and her local Southern California affiliate, and why Richards wanted her to get on board in the first place. "She's been a great supporter for a long time," Richards said, before recognizing Rhimes's commitment to amplifying minority voices." To me, the most important work we can do now at Planned Parenthood is make sure that the voices of all those folks are heard, particularly in this political environment. And there's just no one better at utilizing the power of storytelling than Shonda Rhimes." And Rhimes is ready to show up and get to work. When asked what she's eager to do in her new position, her answer was straightforward: "I haven't totally defined what I want to do yet, but mostly I want to be of service in any way that I can." Rhimes said that she's grateful that she's always had access to medical care, but that doesn't mean she isn't ready to devote her time to making sure other women have access as well. "The fact that I've never had to use a Planned Parenthood, the fact that I've never been in need of medical services I couldn't afford or didn't have access to, doesn't mean I shouldn't be concerned about the fact that other women don't have that access," she said. "I think that's important."
Georgia
The man in charge of helping find a new city manager for Villa Rica is himself out of a job after allegations surfaced he was systematically trashing applications of candidates because they were Black or had a military background. This all came to light after an open records request from reporters at Fox 5 in Atlanta. Michael Jackson was hired in early March as interim Villa Rica city manager. He was not a candidate for the permanent job. One of his duties was to screen applications as they came in for the open city manager position. But on March 7, according to documents obtained by Fox 5, Jackson told Villa Rica human resources director Stephanie Rooks that "Villa Rica was not ready for a Black city manager and did not want to get their hopes up by interviewing them." The documents are handwritten notes Rooks took that she says summarizes her conversations with Jackson. Rooks said that on March 21, Jackson "handed an application back to me, with a yellow sticky note w/ No! written on it; when it was handed back, he made the comment that he was Black."
Rooks said Jackson also wanted to screen out all "military applicants due to the fact that, in his experience they were all abrupt and too stringent."
The Human Resources director noted that Jackson was "conducting Internet research or scanning resumes to determine race or veteran status through professional experience or affiliations." "I remember chills going down my back thinking how could this happen?" admitted Villa Rica Mayor Jeff Reese, who presides over a town of 14,000 people. More than a third of the population is Black. When questioned about his tactics, Jackson denied it was his idea but resigned.