Unapologetically Black
A 35-year retrospective of painter Kerry James Marshall comes to his home town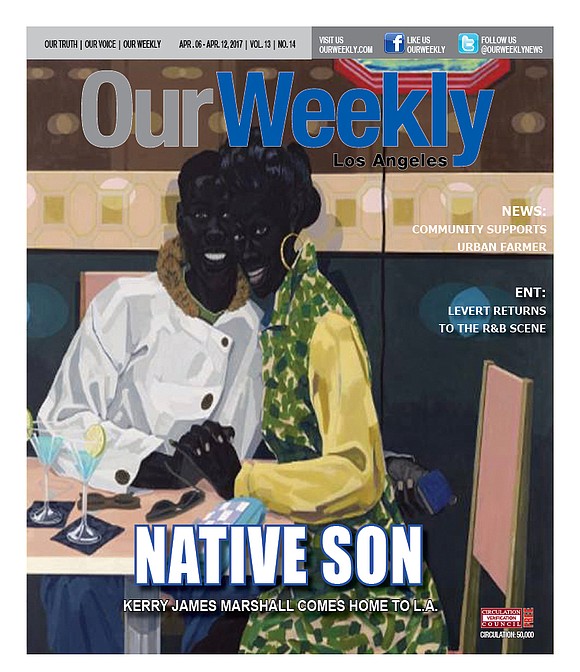 "… in the paintings, I try to enact that same tendency toward the theatrical that seems to be so integral a part of the Black cultural body." —Kerry James Marshall from a 1998 article in Bomb Magazine.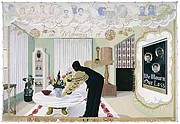 Drawing is a staple of everyone's childhood and is an important avenue of cognitive development. Very few of us continue this activity into adulthood, and fewer still progress to the point where it becomes a profession or life's work. Los Angeles-bred Kerry James Marshall has transcended this and more. Today, he is internationally known for his artwork (especially paintings) commenting on the narrative of the African-American experience.
His canvases are saturated with cultural allusions, entendre, and references to the Civil Rights Era in which he grew up, punctuated by pop culture elements from late 20th century America. The assembled pieces are a testament to his stated objective to propagate Black imagery into a sterile milieu saturated with the heritage of a Eurocentric tradition.
"Kerry James Marshall: Mastry," a 35-year retrospective of this home-grown product of Thomas Jefferson High/ and Otis College of Art is on display at the Museum of Contemporary Art (MOCA), in Downtown Los Angeles.
It views through July 3.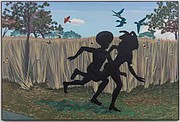 Meditations on a migrational childhood
Starting life in Birmingham, Al., then known as a hotbed of progressive advancement, as the nation struggled with the labor pains of birthing an integrated society, Marshall moved to Los Angeles as a child, in time to witness first hand the Watts Uprising/Riot. The events transpiring before his eyes left a legacy that infused the content of his later work. One indelible image from that period was a giant Jack in the Box fast food statue on the corner of Central Avenue, offset against the pitch blackness of the sky, a wall of flames from the burning buildings behind it.
In an interview with the New Yorker in November 2016, he stated "You can't be born in Birmingham, Al., in 1955 and grow up in South Central Los Angeles near the Black Panthers headquarters, and not feel like you've got some kind of social responsibility. You can't move to Watts in 1963 and not speak about it."
Other cultural/historical events that came into play at the time included the Black Panther shootouts of the late 1960s, and Marvel Comics' introduction of its Black Panther character during the same period.
Race is at the forefront of the imagery projected on Marshall's canvases, possibly as a counterpoint to the dearth of Black images in the Euro-centric art history he absorbed in his educational journey to become (in his words) "a properly schooled artist."
Visual artists (and people of color regardless of vocation) struggle with the cultural perceptions of an alien society that are not necessarily in sync with the groups one identifies with. This resulting "cultural mash up" often makes for a more unique, compelling byproduct of differing, dissimilar ingredients, with no apparent commonality.
Helen Molesworth, MOCA's chief curator and organizer of Marshall's current exhibit, summed up the impact of his creative output. His work "… makes the claim that there is no either/or when it comes to African-American history or American history. The work establishes that those two categories are completely intertwined and dependent upon one another."