More than 300 Black male students gather for leadership conference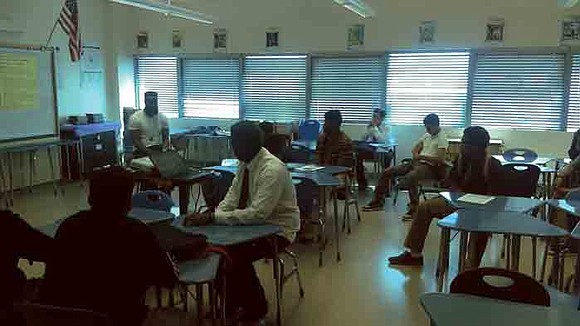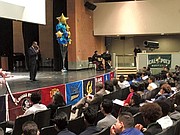 Christopher Goosby is 17 years old. If he were like many teenagers, getting out of bed on a Saturday morning would be unthinkable barring a natural disaster.
Nevertheless, he pulled himself awake—early, quickly freshened up, peered into his closet and scanned the contents. Where he was going, appearance mattered. After mulling the pros and cons of each combination, he emerged from his room wearing a blue necktie, white button-down shirt, and dark, loose-fitting slacks. His leather shoes—dotted with scuff marks from being worn repeatedly to church, school dances, and award ceremonies—were narrow and pointed at the toe, nothing like the bulky exterior of his dilapidated football cleats at home, collecting dust.
Last November, he played his final game of prep-school ball—it was the first of many "lasts" he will experience throughout the course of his senior year in high school, which is nearing a close.
When autumn arrives, he aspires to play strong safety in college, but in the meantime, there's prom, senior pranks, and of course, graduation.
If he were like many other young men from South Central Los Angeles, Goosby would presumably be on the fastrack to social and economic destruction. But he's not a regular teen—he's exceptional and he's already been accepted to four colleges.
"Right now I'm weighing my options, but my choices are Humboldt State [University], Morehouse, Pacific University of Oregon and San Diego State," he explained proudly.
On that Saturday (April 1, 2017), Goosby caught a rapid shuttle to Helen Berstein Senior High School in Hollywood. There, he joined more than 300 African American and Latino students for the fourth annual Young Men of Color "I Rise" Leadership Conference.
This gathering is part of the Los Angeles Unified School District's (LAUSD) "Village Movement Mentoring Program," designed to help at-risk students acquire the tools they need to lead-balanced, productive lives. The conference is composed of workshops, mentoring sessions and group exercises. Each workshop focused on a specific topic, ranging from opening and maintaining a business, to preparing for college, to interacting with law enforcement.
The day's events included a heartfelt speech from L.A. Unified School Police Chief Steven Zipperman. He and a group of officers were in attendance to connect with the students and promote the benefits of launching a career in crime prevention.
"We have to do a better job of building positive relationships with the students," he confessed to the audience. "We want to be part of the community. We want to help. Contrary to what you read in the papers, we don't look at civilians like it's us versus them. We certainly don't see you [the students] that way. Our job is to make sure that you're provided with a safe environment to learn and grow."
He added during a one-on-one interview, "We need to engage each and every student in conversation to let them know that we care and that we're not the enemy. We need to talk to them about life, how they're doing in school, and we need to ask them how we can help them clear these hurdles so they can be successful in class and in life."