Black Caucus members give mixed reviews on meeting with Trump
By Jane Kennedy | TriceEdneyWire.com | 4/6/2017, midnight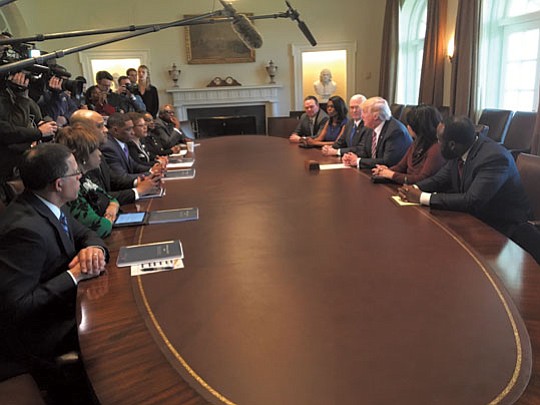 Throughout his bid for the White House, then-candidate Donald J. Trump had an annoying habit of treating all African Americans as a homogeneous group of people living in communities mired in crime, poverty and hopelessness. When asking for Black voters' support, almost always before a rally crowd in which there were very few people of color, he would ask, "What do you have to lose?"
Members of the Congressional Black Caucus sought to answer that very question, when the group had its first meeting with President Trump on March 22. The entire caucus had been invited to the White House but CBC Chairman Cedric Richmond (D-La.) wanted to present a businesslike front and avoid being used as a photo opportunity as many have charged was the case with the HBCU leaders who met with the president earlier in the month.
Therefore, despite the objections of some members, he limited participation to the executive board, which included Rep. Andre Carson (Indiana), Anthony Brown (Maryland), Brenda Lawrence (Michigan), Gwen Moore (Wisconsin), and Karen Bass (California), all Democrats. Assistant Democratic Leader Rep. James Clyburn (South Carolina) also attended.
Trump, in his opening remarks, echoed his campaign trail rhetoric. "Throughout my campaign, I pledged to focus on improving conditions for African American citizens. This means more to me than anybody would understand or know," he said. "Every American child has a right to grow up in a safe community, to attend great schools, to graduate with access to high-paying jobs." The president added that the U.S. has spent trillions of dollars overseas "while neglecting the fate of American children in cities like Baltimore and Chicago and Detroit."
Such statements strike many Black lawmakers and leaders as hypocritical given the adverse impact they believe the White House's budget proposal would have on African-American communities, as well as views held by several of his cabinet secretaries, most notably Attorney General Jeff Sessions, that threaten to reverse hard-won gains. They also believe that part of Trump's problem is that he is uninformed and doesn't have the right people in place to educate him.
That's why the group arrived at the White House armed with a 125-page document titled "We Have A Lot to Lose: Solutions to Advance Black Families in the 21st Century." The tome provides an overview of the CBC "to enlighten the president on the history and diversity of African-Americans." It also highlights problems related to the caucus' top priorities, including economic, environmental and criminal justice; health care; and voting rights. Perhaps more important, it offers what the document describes as "bold policy solutions."
Richmond told reporters after the meeting that while the president has met with various African Americans, the CBC is the only group of Black elected officials who develop federal policy and can also offer diverse viewpoints.
"There were many areas where we disagreed with the policy solutions prescribed by his budget, but it was a meeting where both sides listened and where we were very candid about disagreements," Richmond said. "But the surprising part was that when we talked about the goals, there were more similarities than there were differences. The route to get there is where I think you may see differences and part of that is just education and life experiences."