Vin Scully legacy will never be repeated or forgotten
Legendary broadcaster to retire at end of season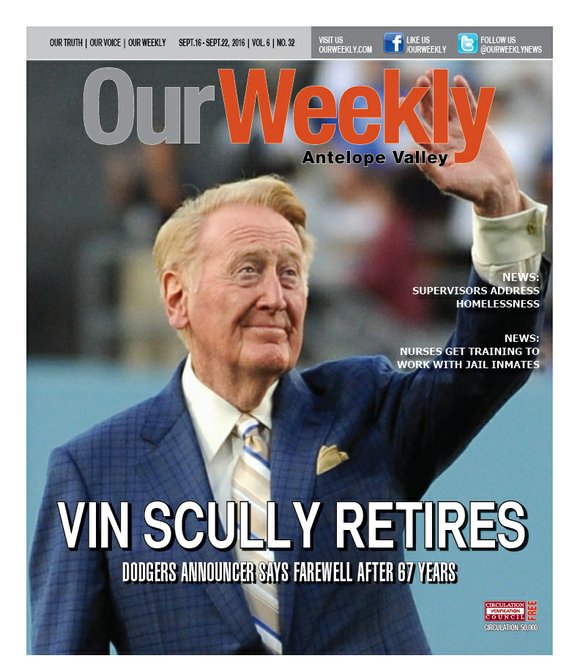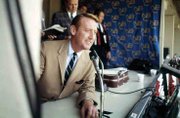 There was a generation of workers after World War II who found it not uncommon to remain on the job for 30, maybe 40 years. They were as regular and reliable as clockwork—always ready, always on time … always excellent.
Now, imagine someone "clocking in"—albeit for five months at a time—for 67 consecutive years. There's a man in town who has done that with extraordinary professionalism, charm and grace. Vin Scully will depart the Dodger broadcasting booth one final time on Oct. 2 and will leave with his countless fans fond memories of transistor radios perched on nightstands or, sometimes on a warm, jasmine-scented summer evening, a portable TV on the front porch along with glasses of cold lemonade as you hear him describe some of the greatest ballplayers in history displaying their finest moments.
Beginning of 'Dodgermania'
For baseball fans, Scully introduced the game on the West Coast. Any Angeleno born in April 1958 may have placed a close second to "Dodgermania," when the team began its first season here. Many years ago, three generations of our family were watching a game and it dawned on some of us just how long Scully has brought the game into our households: "Vin Scully has sure called the game for a long time," I said. "You're right son. I believe we had the game on in the car, when we brought you home from the hospital," mom replied.
Scully may be the most listened-to broadcaster of any sport that ever lived. As a trusted media personality, he ranks with Walter Cronkite. His iconic voice is on a plane with Frank Sinatra, and as far as storytelling goes, only Mark Twain could surpass him. When you hear "It's time for Dodger baseball" or "Hi, everybody, and a very pleasant afternoon wherever you may be …" and, possibly the best of all, "Pull up a chair and spend part of Sunday with us," you know that an old friend has invited you once more into his domain of expertise, and you won't depart until you've been choicely entertained.
Los Angeles sports fans adore their announcers and we've had some legends, for sure, explain the games. But long before Lakers fans would turn down the volume of a national telecast in favor of Chick Hearn's inimitable radio "words-eye-view," Dodgers fans would bring their transistor radio to Chavez Ravine and attach the ear plug to enjoy his storytelling and his one-of-a-kind home run call: "high fly fall into deep right field … back goes (outfielder's name) … a waaay back … it's gone!" Scully may have inspired the purchase of more transistor radios than the Beatles sold electric guitars.
A 20th century Wordsworth
He was a perfect fit for a new destination point. In 1962, Chavez Ravine was shiny and new—and as Scully would often remark decades later "not a hair out of place"—and the young, articulate announcer would describe the action as if he were scripting Wordworth's "Lyrical Ballads." You learned words listening to Vin Scully. You didn't have to fetch a dictionary as if listening to Howard Cosell but, rather, Scully would hold your rapt attention even during the most boring games by using just the right phrasing and never letting his oratory divert the listener/viewer from the action. When Don Drysdale or Sandy Koufax pitched years ago, for instance, it was usually a boring game—no homers, few extra-base hits, even fewer "hot liners"—mostly strikeouts and ground balls. It was during such contests that Scully's personable style of broadcasting, sprinkled with delightful anecdotes, would make even the most rudimentary play or "slow game" sound intriguing.