Cannabis World Congress explores commercial potential of legal pot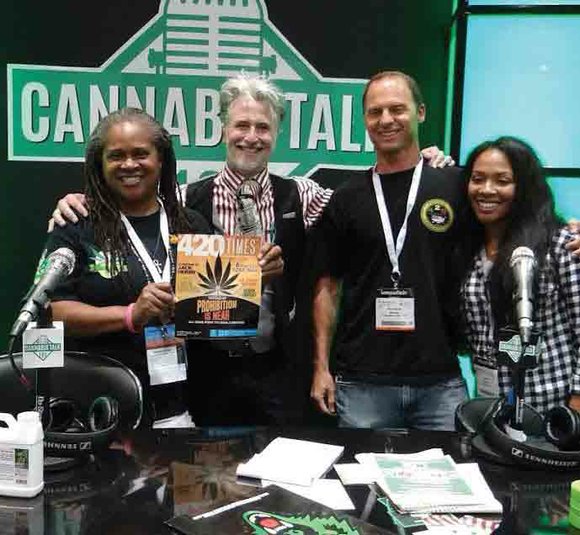 Marijuana, once the provocative past time of the marginalized and those rebellious of the status quo, is now a 10-figure industry manifested by the recent Cannabis World Congress and Business Expo held at the Los Angeles Convention Center Sept. 7-10.
This year's third inauguration is especially timely in that it prefigures Proposition 64, the Adult Use of Marijuana Act initiative (AUMA) ballot up for the voting public in the November election.
As even the most disinterested observer knows, medicinal marijuana dispensaries have multiplied across the state over the past few years, wherein nominal amounts of this flowering plant in myriad forms maybe purchased with easily obtainable prescriptions. Prop. 64 will open up the legal constraints to allow recreational use of this formerly controversial plant, and provide a framework for small businesses (maintaining planting areas under 22,000 square feet) to establish a level "playing field" for this fledgling industry and prohibit the domination by large monopolies.
A driving force behind this initiative is the national nonprofit Drug Policy Alliance, which had a booth at the expo. On hand was campaign program associate Leslie Otañez, who championed the merits of the ballot measure, saying that it "… allows industry access and promotes equity," among prospective newcomers to the industry.
Expo media sponsor Johnni Matthews was especially pleased with the turn out, compared to last year. A producer and host of her own online talk show since 2014 titled "Cannabis Talk Show Live," dedicated to "educating, informing and entertaining viewers about the billion dollar cannabis industry" (catch her at http://www.cannabistalkshowlive.com). Matthews lauded the high turn out of African American attendees this year.
"It was 'cannamazing,' Matthews exclaimed, spouting a phrase she regularly uses on her show.
In the events hall, there were more than 100 business ventures promoting every imaginable avenue related to the cultivation, sale, and consumption of cannabis/marijuana. Among them were manufacturers of extraction machines, huge mechanical apparatuses that break down the individual raw plants into separate concentrates, which in turn can be used to manufacture edible, medical, pharmaceutical, recreational, and other products for the individual consumer.
On hand were vendors hawking various balms, salves, and ointments aside to be utilized in addition to smoking or ingestion. Also on hand were packaging manufacturers producing point-of-purchase containers specifically crafted for this expanding market, including an ingenious cardboard "childproof" container for medicinal/therapeutic merchandise.
In addition were attorneys, certified public accountants, and other business support entities geared specifically towards the marijuana-related industry.
Headlining the expo were media entrepreneur Ted Chung, Grammy and Academy Award winning singer/songwriter Melissa Etheridge, and talk show host Montel Williams.
Ted Chung is best known as the business manager of rap icon Snoop Dogg, as well as a marketing and public relations guru, the co-creator of the MTV comedy series "Mary+Jane," and the lifestyle media website MaryJane.com.
Rock star Melissa Etheridge extended her well-known inclination towards activism supporting medicinal marijuana after her experience as a breast cancer survivor. Her later endeavors have included the manufacture of cannabis-infused cabernets, grenaches, and shirazs from the California wine country.