Preparing the next generation of scientists
South Los Angeles pre-school centers incorporate STEM curriculum
Cynthia Gibson | OW Contributor | 9/8/2016, midnight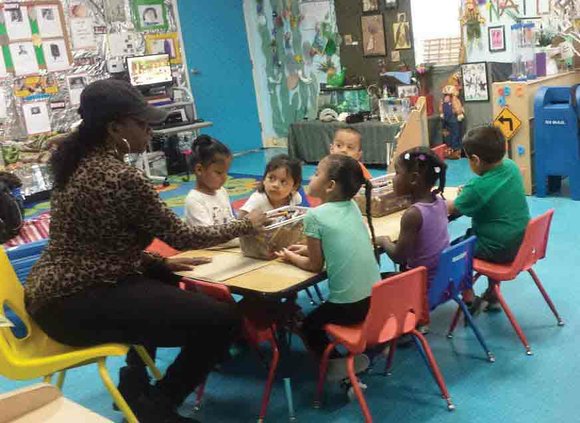 On a warm and sunny morning, a dozen precocious pre-kindergarteners at New Liberty Child Care in South Los Angeles were busy using their ingenuity and an assortment of makeshift materials to construct a mini-recycling park.
What appeared on the surface to be random play was actually an introduction to critical thinking exercises that will lay the foundation for a science, technology, engineering and math (STEM) education.
"If they learn critical thinking skills now at the age of 3, 4 and 5, when they're 15 and 16, they won't be able to solve those problems any other way," said Diann Fauntleroy, director of education for Drew Child Development Corporation (Drew CDC) which operates New Liberty and five other pre-school childcare centers in and around South Los Angeles. "They will be equipped to use cognitive thinking, instead of guns."
Drew CDC is a private, not-for-profit agency that provides education and supportive services for at-risk youth from underserved, culturally diverse families. The agency recently entered into an agreement with the Children's Center at Caltech (CCC), located on the campus of the California Institute of Technology in Pasadena. Caltech is the home of NASA's Jet Propulsion Laboratory, the leading U.S. center for robotic exploration of the solar system.
The partnership between Drew CDC and the Children's Center at Caltech is not unique—there are many programs around the country focused on STEM education for K-12 minority youth—however, the focus on pre-K children in underserved communities is an idea whose time has come, according to Fauntleroy.
"We're thinking that by bringing pre-K STEM education to Watts and South Central, it will be a novel idea. So far it seems to be. We're hoping that this is the beginning of a model for communities of color."
According to Drew CDC research, 56 percent of their service area is Hispanic, 14 percent is African American, and the average annual family income is just above $16,000.
Most of CCC's slots are reserved for toddlers and preschoolers of faculty, students and staff of the two institutions. The Children's Center uses the scientific method to begin developing critical thinking skills in infants as young as six months old. Tuition at CCC ranges from $14,400 to $18,600 per year for full-time care, depending on the age of the child.
CCC Executive Director Susan Wood and her staff will train Fauntleroy and Drew CDC teachers how to incorporate the scientific method—ask a question, guess an answer, experiment, observe and come to a conclusion. Wood designed a curriculum that focuses on allowing young children to predict how something will work, test their ideas and observe the results as a part of their "play."

A basic tenant of the scientific method is that, "Children should be able to read the environment, and the environment should instruct," said Wood.
During playtime, children are asked open-ended questions such as, "What do you think will happen if you do that?" and "Why do you think that happened?" and encouraged to come up with their own answers.
At the conclusion of the training sessions, Fauntleroy, who has a master's degree in Early Childhood Special Education from Clark Atlanta University, will develop a specific curriculum for Drew CDC. She estimates that the training process and creating the curriculum will take approximately one year.