Protesters reject construction of new jails
Force temporary shutdown of supervisors meeting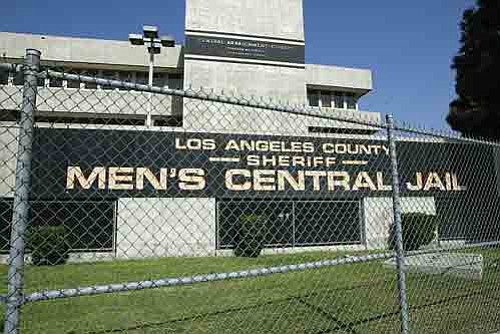 Protesters forced a temporary recess of the Board of Supervisors meeting before the panel voted this week to move forward with plans for a 1,604-bed women's jail in Lancaster and a 3,885-bed treatment center downtown to replace the Men's Central Jail.
The board's vote—taken roughly 90 minutes after the room was cleared—was unanimous to certify the Final Environmental Impact Report for the women's jail and approve $106 million in funding for planning the downtown Consolidated Correctional Treatment Facility.
Dozens of community activists were in the audience—some wearing hazardous materials suits to highlight concerns about valley fever—as Sheriff Jim McDonnell stressed the need to trade the obsolete men's jail for "one that is safe, sanitary and does more than just house inmates."
Responsible for what is now the largest mental health facility in the nation, McDonnell said the county sought to be "compassionate, but realistic about our mental health inmate population."
By conservative measures, about 20 percent of inmates have mental health issues, while 80 percent deal with substance abuse problems, according to McDonnell. The $2.2 billion Consolidated Correctional Treatment Facility is aimed at taking better care of those inmates, he said.
"We're not adding more beds," McDonnell told the board.
But as county staffers detailed plans for that jail and the $136 million Mira Loma Women's Detention Center, community members began loudly chanting, "no more jails" and standing up to shout indictments of the plan.
Supervisor Hilda Solis, who chairs the board, called for quiet and threatened to call the meeting into recess.
"We understand this is a challenging topic," Solis said as the crowd continued to shout.
Supervisor Mark Ridley-Thomas took a turn at trying to calm the protesters, who simply changed their chant.
"Walk out on the jail plan, not the community," the activists shouted. "Reject the EIR."
The supervisors left the board room as the chants continued.
Deputies told the activists they would be arrested if they didn't leave the board room and the group slowly filed out and gathered outside.
Community activists have fought the jails for years, pressing officials to find alternatives to incarceration and spend money on community programs.
Opponents have also raised concerns specific to the Mira Loma Detention Center, including the potential for spread of valley fever, a fungal infection, and the distance families must travel to visit inmates.
The county has dedicated resources to diversion programs, but maintains that those efforts will not eliminate the need for modern detention facilities.
Female inmates are currently housed in Century Regional Detention Facility in Lynwood, a high-security facility built for men. The Lancaster jail is a retrofit of a federal immigration detention center to create a more open, campus-like environment offering "gender-responsive programs."
The jails plan "reflects a lot of high hopes for the board,"Supervisor Sheila Kuehl said. "The hope is that we will really have a different kind of incarceration ... we're hoping for rehabilitation and treatment."
Dr. Mark Ghaly of the county's Department of Health Services said he envisioned the women's jail as a "well facility."