Police shootings lead to racial trauma in African Americans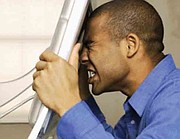 We now live in an era where just about everything is available to us at the click of a button. And becoming more popular is getting your daily dose of news right on your laptop or smart phone. Even the outlets that the masses use to acquire their news have evolved.
TMZ (Thirty Mile Zone) which seemingly began as a "celebrity sighting" website, now breaks legitimate news stories. Civilians can even upload photos and live videos to their Facebooks, Twitters and the behemoth that is YouTube without permission, without editing, without bias. Most striking, content producers can publicize this imagery without any responsibility to the mental and psychological impact it may have on the viewing public.
Over the past few years, the physical abuse and state-sanctioned murder of African-American men and women at the hands of law enforcement officers have become increasingly popular viewing on the news circuit. The impetus may be traced back to Oscar Grant, the young Black man who was fatally shot in the back by BART police officer Johannes Mehserle while he lay face down and handcuffed on an Oakland train station platform in 2009. The incident was captured on numerous cell phone video cameras, was publicized, and went viral almost instantaneously. Millions of people watched, rewatched and shared this video of an unarmed Black man being killed in cold blood. It got so much attention that a major motion picture "Fruitvale Station" was created to memorialize the event.
In the years since Grant's murder, unfortunately, the trend of using video of such incidents has only continued, and more of the bystanding public has gotten involved by consistently being camera-ready when they see police encounters. This brings us to an increase in the number of videotaped killings that have dominated cyber space—and as a result the increasing amount of national news coverage—in the last year and a half.
Some of the most brutal of these incidents have happened this year, specifically the back-to-back killings of Alton Sterling—a 37-year-old father of five and 32-year-old Philando Castile, who was shot while in the car with his girlfriend and her 4-year-old daughter. Castile's death was shared with the world live via Facebook. The aftermath of these tragedies included protests, peaceful and otherwise (one of which got so violent that it left five Dallas police officers dead), and created an outcry heard nationwide. It even prompted President Barack Obama to make a formal statement on the situation.
As horrific as these videos are, the public continues to watch and the views and shares are typically in the millions. But the situation begs the question: Why do people continue to watch? And, what type of an affect are these viewings having on observers?
"Watching Philando's death was probably the worst thing I have ever seen in my life," said Shana Galloway. "I got the notification that Lavish (Reynolds) was recording live and there it was; he was dying … in real time. I was hysterical. I was at work sitting at my desk in tears, in shock, in anger … and I don't know either of them personally. But there was something so painful and way too real about watching someone take their last breaths, and witnessing it with his loved ones … emotionally it was way too much, I was depressed about it for days."