Trump vets potential cabinet appointees
Michelle Rhee could be in the running for education secretary
11/23/2016, midnight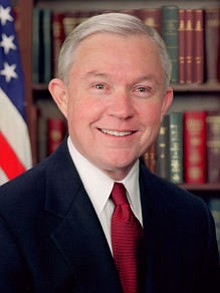 President-elect Donald Trump has spent the last several weeks appointing people to advisory positions in his administration as well as selecting those he intends to nominate for cabinet positions.
One of the first individuals Trump intends to nominate could have a far-reaching impact on the country's justice system. Sources close to the action say that President-elect Trump has offered Alabama Sen. Jeff Sessions the post of attorney general.
But this action does not sit well with many in leadership in the minority community.
G. K. Butterfield, chair of the Congressional Black Caucus (CBC) said he expects Sessions will face an uphill battle getting confirmed by the Senate.
"We face an alarming choice in the selection of Sen. Jeff Sessions to serve as the chief law enforcer for the United States of America," said Butterfield. "Sen. Sessions' civil rights record is appalling and should disqualify him from Senate confirmation.
"Sen. Sessions has continuously obstructed the progress that we've made since the historic Civil Rights legislation of the 1960s. Sen. Sessions has blocked legislative efforts to ensure racial equality in minority communities, including his opposition to President Barack Obama's judicial nominations and full enforcement of the Voting Rights Act.
"The Attorney General must run the Department of Justice with a total commitment to the rule of law and must guarantee minority citizens their fundamental constitutional rights. The Congressional Black Caucus stands ready to oppose Sen. Sessions' confirmation as we adamantly believe his appointment will set us back in the advancement of civil rights and race relations across the country."
Sessions, who has been one of Trump's closest and most consistent allies, was the first senator to announce his support for the presidential candidacy of the billionaire real estate magnate. An architect of Trump's immigration, counterterrorism and trade policies, Sessions was also considered for secretary of defense. The Trump transition team pronounced itself "unbelievably impressed" with Sessions in a statement, citing his work as a U.S. attorney and state attorney general in Alabama.
In addition to the CBC, the nation's leading association of Black lawyers weighed in on the Sessions nomination.
"As the largest association of African American lawyers, judges, law professors and law students, representing a network of more than 65,000 in the legal profession, we find the nomination of Sen. Jeff Sessions to attorney general by President-Elect Donald Trump, deeply troubling and offensive. Sen. Sessions has a long and well-documented history of racial intolerance. His actions, attitude, and verbiage were so repugnant that members of his own party refused to confirm him for a federal judgeship," said Kevin Judd, president of the National Bar Association.
"Further, the Office of Attorney General of the United States requires someone, not only with a sense of fairness, but also a thorough knowledge of and commitment to the law, that will set policy and precedent for the nation's legal and criminal justice systems. We call on all civil rights and human rights organizations to join us in denouncing this selection, and commit to work in solidarity to ensure that Sen. Sessions is not the top law enforcer of civil rights and liberties, and social and criminal justice in our country. We have no evidence to believe that Sen. Sessions fits those requirements and should his nomination move forward, we urge the United States Senate not to confirm him."