Trump wins in America's most stunning upset for White House
Kamala Harris goes to Washington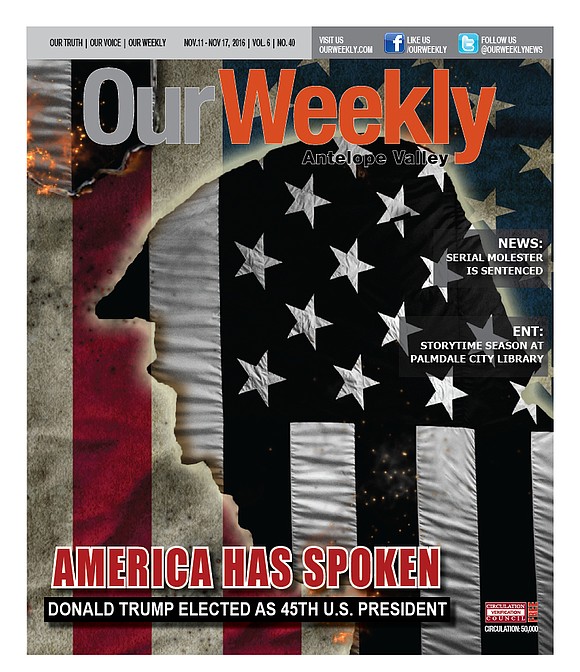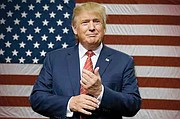 In the most stunning presidential upset in American political history, New York businessman Donald J. Trump on Wednesday defeated former Secretary of State Hillary Rodham Clinton in a vociferous White House campaign that saw criminal investigations on one side and unseemly personal revelations on the other.
At press time, Trump had won in 29 states, receiving 279 electoral votes to Clinton's victory in 18 states and 228 electoral votes, despite the fact that she could conceivably win the popular vote (59,186,057 to Trump's 59,049,470 by Wednesday morning). Results from Vermont remained too close to call. Early Wednesday morning, the two-time presidential hopeful conceded the election to Trump and later addressed her supporters, stating: "I know how disappointed you feel, because I feel it too. This is painful and it will be for a long time, but I want you to remember this: Our campaign was never about one person or even one election. It was about the country we love and building an America that's hopeful, inclusive, and big-hearted. I still believe in America, and I always will."
A peaceful transition
President Barack Obama on Wednesday spoke in the Rose Garden and congratulated President-elect Trump and vowed to work with the latter's team to ensure a peaceful transition of power. Obama also called the president-elect to invite him to a meeting in the Oval Office on Thursday.
"It is no secret that the president-elect and I have some pretty significant differences," Obama said with Vice President Joe Biden looking on. Obama said he would instruct his team to follow the example set by President George W. Bush's team as they transitioned out of power, adding that he and his predecessor also had significant differences, when Obama took office.
By almost every indication, Clinton looked to win the presidency, even after an 11-hour bombshell from FBI Director James Comey on the e-mail controversy that had dogged her campaign; polls in the days leading up to election night showed Clinton ahead by 4 points.
Republicans retained the Senate with 51 seats versus 45 for Democrats, while the House of Representatives remained in GOP hands with 241 seats against 194 for Democrats.
'Come together as one united people'
In accepting victory, Trump struck a conciliatory tone after the brutal campaign that pitted liberals against conservatives, Blacks against Whites, men against women, and ethnic groups and the immigrant community against the larger body politic in ways not seen in any modern presidential election.
"Now it's time for America to bind the wounds of division—have to get together," Trump told jubilant supporters at the New York Hilton. "To all Republicans and Democrats and independents across this nation, I say it is time for us to come together as one united people."
Leaders around the world, including Israel Prime Minister Benjamin Netanyahu and British Prime Minister Theresa May, issued messages of congratulations to Trump. In addressing the "world community" during his victory speech, Trump said that "while we will always put America's interests first, we will deal fairly with everyone … all people and all other nations. We will seek common ground, not hostility; partnership, not conflict."