Trump wins in America's most stunning upset for White House
Kamala Harris goes to Washington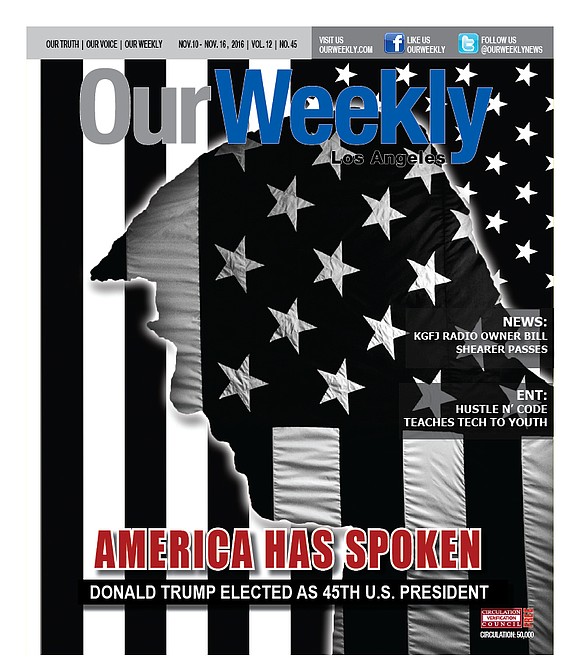 In Russia, President Vladimir Putin sent congratulations to Trump with the publication Russia Today reporting that Putin "has expressed confidence that the dialogue between Moscow and Washington, in keeping with each other's views, meets the interests of both Russia and the U.S."
An 'outsider' suprises all
In claiming victory, the president-elect did not mention his most criticized proposals such as dismantling the Affordable Care Act, building a wall on the Mexican border, banning [some] Muslim immigration, and calls to rework trade deals.
U.S. political analysts said that Trump's status as a non-politician "outsider" threatening to shake up the establishment resonated with voters, as did his attacks on trade and immigration policies. Also, Trump did much better with women voters and piled up a huge number of White working-class votes, particularly in rural areas.
Trump succeeded in expanding beyond the traditional Republican boundaries to reach frightened and upset Americans such as the throngs who attended his rallies. Clinton received strong support among minorities, especially Latinos, and fared much better with college-educated White voters than any previous Democratic nominee. In the so-called "battleground" states of Florida and Nevada, an outpouring of early voting by Democrats reportedly broke records and prompted Clinton strategists to prematurely predict victory.
In some major cities, African Americans did not turn out for Clinton as they did for President Obama in 2008 and in 2012. These deficits were even more pronounced in blue-collar White regions like northern Pennsylvania, which revealed Clinton's weaknesses, but were offset somewhat by strong showings in the state's suburbs and urban areas. Clinton handily won California earlier in the evening, garnering 61.4 percent of the vote (5.45 million ballots) versus Trump at 33.3 percent (2.95 million votes).
A crack in 'glass ceiling'
Some political analysts say Clinton won Virginia, Colorado and Nevada in catering to those states growing ethnic diversity, but Trump's appeal among older less cosmopolitan America gave him unexpected victories in Florida and in Ohio. The Clinton campaign regularly upset expectations with her quest to break the "glass ceiling" that has been a constant in American politics, while billionaire Trump successfully took the role of an outsider, expressing the grievances and anger of much of the nation's White working-class population.
Other political analysts studying the election results have pointed to the infamous "Bradley effect" in which exit polling indicated that Clinton was the clear choice among Democratic voters who, instead, cast ballots for Trump for fear of being labeled sexist. The term comes from the 1982 California gubernatorial contest between Los Angeles Mayor Tom Bradley and Gov. George Deukmejian when, based on exit polls indicating Bradley was the projected winner, post-election research indicated that a smaller number of Whites had voted for Bradley than polls indicated, and that previously undecided voters had opted for Deukmejian.
Trump's victory is due primarily to his larger-than-life persona. He gained the keys to the White House despite insisting that President Obama was not born in the United States but rather in Kenya; dismissed Obama, U.S. trade negotiations and military leaders as "stupid" and "losers," and mocked Arizona Sen. John McCain for being captured in the Vietnam War.