A daily walk provides physical benefits, mental balance without paying a cent
Free Warford Wellness 5K tomorrow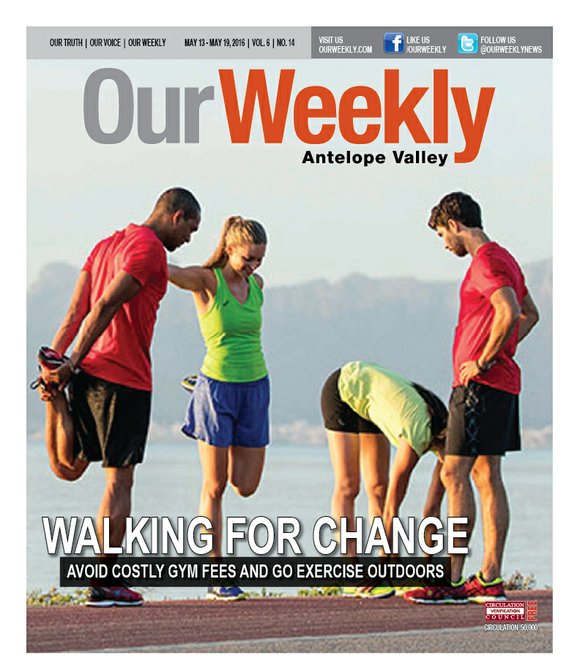 A brisk, moderate or just a leisurely walk can do amazing things for you. Walking is a great way to improve or maintain your overall health. Just 30 minutes a day can increase cardiovascular fitness, strengthen bones, reduce excess body fat and boost muscle power without having to spend any more than $25 or $30 for a pair of jogging shoes.
Antelope Valley Partners for Health (AVPH) hopes that thousands of locals will participate tomorrow morning in the seventh annual Warford Walk for Wellness at Domenic Massari Park, 33716 55th Street East in Palmdale. The free 3.2-mile event along the park's picturesque walking path will begin at 9 a.m. sharp, proceeded by registration at 8 a.m. and a brief stretch at 8:45 a.m. to get the muscles loose and juices flowing. The YMCA will conduct a half-hour Zumba class as well.
Walk with family and friends
Event organizers invite the public to come out and walk alone, with a friend, or form a group, the latter of which can be composed of families, friends and even businesses. AYPH wants to increase awareness about the benefits of a simple, daily walk and has joined with community leaders, faith-based organizations, businesses and residents to shine a spotlight on the ongoing health crisis not only in the Antelope Valley but throughout Los Angeles County. The Department of Public health has published findings on the health disparities of Antelope Valley residents compared to surrounding regions, and reported that this portion of the county has the highest rates of obesity, diabetes, high cholesterol, heart disease, asthma, depression and suicide. It's not just the low-income population suffering, but practically everyone who resides in the region.
"Many health problems can be addressed through walking," said Trish Bogna, director of adult and senior programs with AVPH. "Walking helps a person stay flexible. For seniors, it can assist with balance. And it's great for independence which is something many seniors miss because of advanced age." Bogna explained that many seniors believe that a motorized scooter is the best way to get around because their muscles have weakened, thereby causing pain. "They may not need them so soon," Bogna explained. "Sitting all day makes you gain weight which can lead to further health problems. Walking is 'doable' for people who cannot do a Zumba or 'spin' class.
Ongoing health crisis in AV
Expect an excess of 200 people tomorrow. The event has gotten larger each year and AVPH staff are said to be "super excited," says Bogna. They want to get residents "out and about," she said "because walking leads to good physical condition and you can make lots of friends. Come on out and try it."
One of the major health concerns with residents of the Antelope Valley is asthma and various allergies. Bogna explained that the ever-present sand particles of the region—and the dry climate—can result in breathing difficulties in some residents. Also, many persons from Los Angeles (i.e. former residents of the 710 Freeway Corridor and their resultant inhalation of big rig fumes) who have moved to the area in recent years didn't always receive good health care and arrive with any number of ailments. "We recognized that early, and have been working at successfully reducing the numbers, particularly cases of asthma," she said.