Grim Sleeper Case
| By City News Service | 5/4/2016, 12:49 p.m.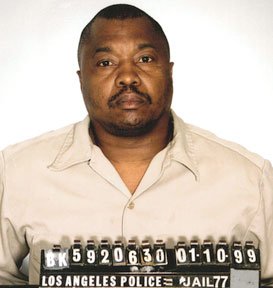 Jurors today began deliberating the fate of an alleged serial killer charged in the "Grim Sleeper'' murders of nine women and a teenage girl over a period of two decades. In closing arguments Tuesday, one of Lonnie David Franklin Jr.'s attorneys, Seymour Amster, told the seven-woman, five-man jury that the
killings could have been committed by a "mystery man,'' but prosecutor Beth Silverman countered that there was no evidence of anyone else being connected to the crimes. "It's our position that there's a nephew or youngster who's involved that did each and every murder,'' Franklin's lawyer said, telling the Los Angeles Superior Court jury there was "insufficient evidence'' that Franklin was involved in the crimes. In her rebuttal argument, Silverman said the defense's theory had "no evidence to support it'' and urged jurors not to engage in speculation. If there is a mystery man out there, where is his DNA?'' the
prosecutor asked. "The only DNA profile that repeats itself again and again is the defendant's.''
Franklin faces a possible death sentence if convicted of killing the nine women, mostly in their 20s, and a 15-year-old girl and dumping their bodies in alleys and trash bins around South Los Angeles, Inglewood and unincorporated Los Angeles County. The murder charges include a special circumstance allegation of multiple murders. The 63-year-old former city garage attendant and sanitation worker is
also charged with the attempted murder of Enietra Washington, who survived being shot in the chest and pushed out of a moving vehicle in November 1988. In testimony Feb. 25, she identified Franklin as her assailant and said he took a Polaroid-type photo of her after shooting her. Calling the evidence against Franklin "so substantial,'' the prosecutor said the only reasonable interpretation of the case is that Franklin is "a serial killer'' who is responsible for the "cold-blooded murders'' of 10 people and the attempted murder of Washington. She said the defense's closing argument marked the first reference
during the trial to a "mystery man'' with a "mystery gun'' and "mystery DNA.'' She also questioned whether it was reasonable that Franklin would have the photo of Washington stashed behind a wall in his garage if someone else had committed the crime. Franklin's attorney told jurors that Washington's testimony marked the only direct evidence in what was otherwise a "circumstantial evidence case,''
and questioned why she was only shown a photo of Franklin and not photos of other men when she was asked to identify her assailant. "Nothing in this case has evidence that is not questionable,'' he said.
Amster told jurors that "the lack of evidence in this case compels you to find Mr. Franklin not guilty.''
The killings occurred between 1985 and 1988, and 2002 and 2007, with the assailant dubbed the
"Grim Sleeper'' because of the apparent 13-year break in the killings. All of them were either shot mostly in the chest with a .25-caliber firearm or strangled. Franklin is charged with murdering: