Grim Sleeper Case
| By City News Service | 5/2/2016, 12:01 p.m.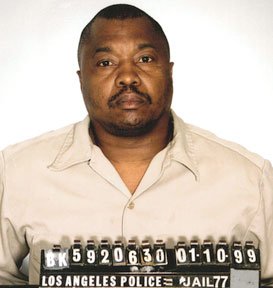 An "overwhelming'' amount of evidence points to the guilt of a man accused in the "Grim Sleeper'' killings of nine women and a teenage girl, a prosecutor told jurors today, saying the defendant murdered
defenseless victims and disposed of them like trash.
"Ten young women, all of them cruelly murdered by that man, the defendant, Lonnie Franklin,'' Deputy District Attorney Beth Silverman said in her closing argument in downtown Los Angeles, pointing at the defendant in court.
Lonnie David Franklin Jr. faces a possible death sentence if convicted of killing the nine women, mostly in their 20s, and a 15-year-old girl and dumping their bodies in alleys and trash bins in and around South Los Angeles, Inglewood and unincorporated Los Angeles County.
The 63-year-old former city garage attendant and sanitation worker is also charged with the attempted murder of Enietra Washington, who survived being shot in the chest and pushed out of a moving vehicle in November 1988.
In testimony Feb. 25, she identified Franklin in court as her assailant and said he took a Polaroid-type photo of her after shooting her. Silverman showed jurors photos of all of the victims, telling the panel
an "overwhelming amount of evidence'' links Franklin to the "horrendous crimes.''
"All pointing to one person as the killer -- this defendant,''Silverman said.
The prosecutor said the 10 victims had distinct similarities, all of them young black females, all of whom were dumped in "filthy alleys'' after being killed elsewhere. She said Franklin "dumped his victims like trash'' in alleys and trash bins, some missing underwear or shoes, and some completely naked. All of them were either shot with a .25-caliber firearm or strangled.
"In this case, all the murders are first-degree. Every single one of them,'' she said, referring to Franklin as a sexual predator who degraded his victims. "The defendant is a serial killer who was basically hiding in plain sight,'' Silverman said. "He blended in.'' The killings occurred between 1985 and 1988, and 2002 and 2007, with the assailant dubbed the "Grim Sleeper'' because of the apparent 13-year break in the killings. Silverman said during the trial that of the victims were shot in thechest or strangled, and all of the victims were "connected to the same serial killer'' either through DNA evidence or firearms evidence, the prosecutor said. She said eight of the victims were linked through firearms evidence, and DNA collected from seven of the victims was linked to the same male profile, which was matched to "the defendant's unique DNA profile" during an LAPD task force investigation into the killings. A defense attorney is expected to give his closing argument later today or tomorrow. When the defense started its portion of the case last month, one of Franklin's attorneys, Seymour Amster, cited more than 20 DNA tests of victims' clothing and sexual assault kits that excluded his client as a contributor. "Lonnie Franklin was excluded as the source of the major DNA profile. The minor portion was inconclusive,'' defense attorney Seymour Amster told the jury over and over again in his opening statement, referencing samples taken from victims' bodies or clothing. In each instance, Amster detailed the number of other sources of DNA found in semen and other swabs and samples. Amster also questioned Washington's testimony, saying she told a friend that more than one person assaulted her. He told jurors that Washington "repeatedly used the word 'they' and not a single person.''