Student Athlete of the Week: Dorsey's Aundrea McBride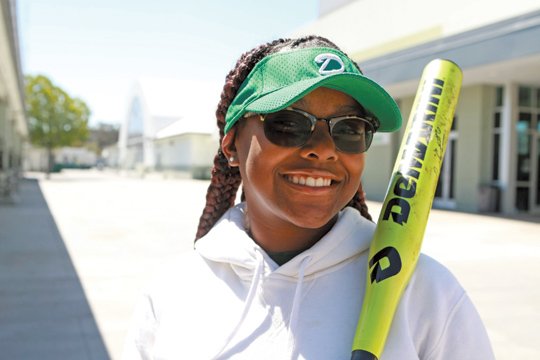 Dorsey High School senior Aundrea McBride looks like she'll be heading down South for college. The 3.5 grade point average student has been accepted to 18 colleges, with Alcorn State University in Mississippi, Benedict College in South Carolina, and Bethune-Cookman University in Florida at the top of her list.

All three of those schools are Historically Black Colleges and Universities, as are many of the schools at which she has been accepted.

"My family is from the South, and our family alma mater is Alcorn State," McBride said. "When I went to visit a couple times, I just got drawn to the school. So, I feel like that will be the best place for me. And they have also offered me an academic scholarship."
McBride is from Los Angeles, but she is looking forward to the change of scenery.
"We go down there for family events and things like that, and I love it down there," McBride said. "My mom was like, 'you know you're like a city girl.' I know that will matter, but not too much because I like the culture."
When McBride gets to college she will have to decide, if she will continue playing softball, and she said that decision will be based on her academic performance.

"I would like to play in college, but since I'm a senior going into my freshman year, I'd like to get stable," McBride said. "I'd like to control my schedule, so going into my second semester, if I know that I can control that, then I will go to softball as a walk-on. But if I have struggles in school, I'd rather just focus on school."
McBride has been participating in sports since she was 4-years old, when she joined the cheerleading squad with the Baldwin Hill Bruins. While there have been many debates over whether cheerleading is a sport or not, on the level at which she participated, McBride believes that it is.
"I've done competitive cheerleading, so it wasn't just cheering at games," McBride said. "I've done competitions, so it was long practices, sprained ankles, knee injuries, and shoulder injuries from tumbling. So cheerleading is a sport. You can't just go off of what you see at games, because not all teams do the same things. Some teams cannot do stunts because their conference may not allow it."
While McBride was in the Baldwin Hills Bruins program, the cheer team won numerous national titles while they competed at Six Flags Magic Mountain and in Las Vegas. She also competed in track with the Rancho Track Club, but one sport always interested her—baseball.
McBride is an only child, but she has a number of cousins who played baseball, including her cousin Matthew Young who plays in the Minor Leagues for the Cardinals. She grew up as a Yankees and Devil Rays fan, and she also rooted for the hometown Dodgers.

When McBride was in the sixth grade, Frederick Douglass Academy formed a softball team, and she jumped at the chance to take the field like her cousins had done for years. Even though she was nervous at first to play a new sport, her mother encouraged her by reminding her she had actually been competing in athletics for years.