Women's History Month
Alice Coachman: First Black woman to win Olympic gold
jason Lewis | OW Contributor | 3/17/2016, midnight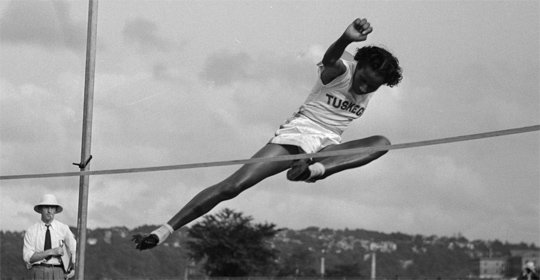 Alice Coachman displayed natural athletic abilities growing up in the 1920s, beating the boys in foot races and other athletic competitions in her neighborhood in Albany, Ga. But being Black and a female in the segregated South meant that she had limited opportunities to develop her abilities.
Coachman was born in 1923, and she had nine siblings. Because of Jim Crow laws, Blacks were not allowed to play on sports teams with White children, so Coachman was unable to hone her skills through conventional means. Also, being a young girl, she was discouraged from playing sports, because her parents wanted her to do something more ladylike.

But Coachman was not going to be stopped, so she had to find other means to increase her athletic abilities. She trained for sprint events by running through dirt fields; and she increased her leaping abilities by tying rags to objects and jumping over them.
The unconventional athletic training paid off, because Coachman received a scholarship to attend Tuskegee Preparatory School at the age of 16.

Before the college, she competed in a track meet, where she broke the high school and collegiate high jump records without wearing shoes. When she got to Tuskegee, she continued her athletic career, winning national championships on the 4 by 100-meter relay teams in 1941 and 1942. The following year, she won the Amateur Athletic Union national title in the high jump and the 50-yard dash.
Coachman won 25 national titles from 1939 to 1948, and she was the national champion in the high jump in each of those years. She also won the outdoor 50-meter dash from 1943-1947, the indoor 50-meter dash in 1945 and 1948, and the outdoor 100-meter dash in 1942, 1945, and 1946.

Even with her great abilities and accomplishments, an opportunity for an Olympic gold medal had eluded Coachman. The 1940 and 1944 Olympic Games were canceled due to World War II. She would have been one of the favorites in both games.

Coachman finally had her chance at Olympic glory during the 1948 London Games. For her, this was more than personal glory, because she knew that if she succeeded, she would open the doors for other Blacks, especially Black women. However, if she failed to win the gold, others might not have been able to follow in her footsteps. During those times, Blacks had to be exceptional in their field just to gain an opportunity. Consequently, she knew she had to win.

Coachman seized the moment by winning the gold medal in the high jump. She not only became the first Black woman to win an Olympic gold medal, she became the first American woman to win a track and field gold medal. She was the only American woman at the 1948 Olympics to take home the gold.

Coachman had finally reached the mountaintop, and she proved that people who were thought to be inferior, and who did not have an environment that allowed them to get the most out of their abilities, could still overcome the odds and succeed at the highest level.