West Coast jazz great Ernestine Anderson dies at 87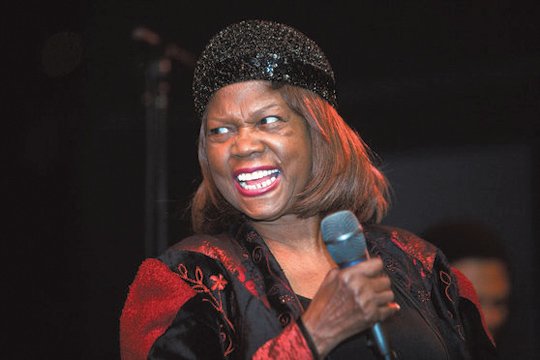 "She can sing the blues, and she can sing a ballad. She can swing you out of the country!"
—Fellow songstress Etta James on the vocal styling of Ernestine Anderson.
Ernestine Anderson, the celebrated blues and jazz singer who received four Grammy nominations during a 60-year career, has died at an assisted living hospice near her adopted home of Seattle, Wash. She was 87.
Born with her twin sister Josephine in Houston, Texas in 1928, she was a seasoned performer well before the family relocated to Seattle in 1944. There she attended that city's James A. Garfield High School, where she became one of its illustrious musical alumni along with rock star Jimi Hendrix, music impresario Quincy Jones (who likened her voice to "honey at dusk"), and contemporary hip hop sensation Macklemore.
Well before he made the audacious step of becoming a jazz vocalist in his own right, Ed Reed (the subject of an Our Weekly profile on June 18, 2015) encountered the budding chartreuse at the beginning of her career, while he was stationed at the Oakland Army Base. Anderson, in Reed's words, "… was knocking us out!" with her formidable talent at every performance in Slim Jenkins' club.
Reed was smitten with her charms beyond her way with musical lyrics.
"I was in love with her; she was so beautiful and sweet," he remembers.
In those days, the immortal Dinah Washington was the epitome of all the many talented singers of color saturating the juke boxes of the era, but for Reed, Anderson towered above "the queen of the blues." Alas, the young soldier was too shy to make a move toward her. Years later in 2009, Reed opened for her at Yoshi's jazz club in San Francisco's Jack London Square , and they shared a laugh about this unrequited love some 60 years later.

Anderson, launched her career with the likes of Johnny Otis and Lionel Hampton, earning the distinction of performing at Dwight D. Eisenhower's presidential inauguration. She went on to receive Down Beat Magazine's "New Star" award in 1959, on the strength of her debut album "Hot Cargo" released the year before, which facilitated a lucrative livelihood touring in America and Europe.

However, in spite of her universal acclaim, like many artists in the jazz genre Anderson endured financial hardship with the advent of the rock and roll explosion of the 1960s, and she moved back to Seattle where she eked out a living as a hotel maid. In 1973, she launched a come back, netting healthy record sales and a 1981 Grammy nomination for the B.B. King penned "Never Make Your Move Too Soon."

Critical and monetary followed success followed as she toured with the likes of Benny Carter, Gene Harris, Hank Jones, and George Shearing. Then she teamed up with her old friend Quincy Jones for a series of productive recordings on his Qwest label, starting in 1993.
But the fickle nature of the music-buying public once again turned a deaf ear to her sultry contralto, and she was faced with the foreclosure on the family home in Seattle's historically African American Central District in 2008. But before that could happen, fans and well-heeled friends like Jones, and the local affiliate of the National Urban League stepped in to prevent the house from being repossessed.

In an appropriate, late-life tribute to their hometown legend, a $13 million, 60-unit, low income-housing complex for senior citizens was opened in 2013, named Ernestine Anderson Place.
On Friday, a day after her death, Seattle mayor Ed Murray released the following statement:
"Ernestine was a giant of the jazz community and a Seattle ambassador to the world. She represented the best of our city. Her work was a vibrant part of our community's culture. I will never forget her performances and I feel fortunate to have witnessed her artistry and genius. Her recordings will live on and influence other musicians for years to come."
The producer of some 30 albums during her recording career, Anderson leaves behind three children, eight grandchildren, and four great-grand children.