Black Trump supporters like his leadership skills, promise to crack down on illegal immigration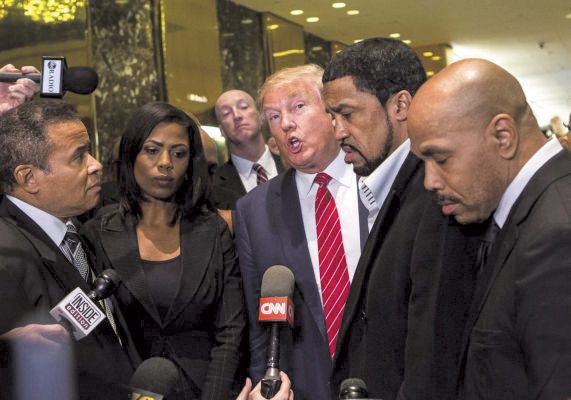 Although Republican frontrunner Donald Trump is drawing the praise of White nationalists, who say he has energized their movement, his presidential campaign does have some Black supporters.
One of them is Shirley Husar, a resident of Pasadena and columnist for The Washington Times. She said Trump, a real estate tycoon and former star of "The Apprentice," would make the best presidential candidate because he has a history of successfully running a large organization. She said none of the other Republican or Democratic candidates has a track record of governing.
Husar, a real estate developer and CEO of Story.com, said she has been a fan of Trump, since "The Apprentice" began.
She is also attracted to Trump's promise to crack down on illegal immigration, which she says has decimated Black communities.
"It's appalling what they (illegal immigrants) are doing to the Black community," she said citing the case of Jamiel Shaw Jr., the high school football player killed by an illegal immigrant, who was also a member of a street gang.
Husar said she is looking forward to Trump's plan to repatriate millions of undocumented immigrants back to their native lands.
Husar added that she is confident that Trump will get the Black vote. She pointed out he had already won primaries in Georgia and Louisiana, states with large Black populations.
Even though Trump has retweeted White supremacist messages and granted a press pass and an interview to James Edwards, host of "The Political Cesspool," a White supremacist radio show, Husar denied he was racist. She said those accusations against him were false.
However, University of Louisville student Kayisha Nwanguma, a Black woman who attended a Trump rally, was assaulted by his supporters, who also called her the n-word and a ct, according to The Daily Mail. But Husar said any Black person who protested at a rally full of "rednecks" in the South should have expected that kind of behavior. She said Black activists who demonstrated at Trump rallies put themselves in harm's way. The violence was not right, but Donald Trump didn't condone that, she said. She blamed the violence on attendees of the rally, not Trump. (But according to The Week, Trump told his supporters to knock the "crap out of" protesters who disrupt his rallies and promised to pay their legal bills.)
Husar, who has been a delegate at Republican conventions, expects Trump will be the eventual nominee and doesn't think there will be a brokered convention.
"This man will be president," Husar said.
Jesse Bryant, a financial consultant who lives in the Inland Empire, said he's a Democrat, but he is backing Trump. Bryant said he supports Trump because he has shown leadership.
He admitted, however that, Trump has not clearly laid out his economic policies or how he plans to implement them.
"I'm not concerned with his economic policies. He doesn't have any economic policies, but I like his leadership," said Bryant.
Bryant admitted that Trump can be controversial, because he speaks his mind and says things most Americans are afraid to say. Trump has said he will build a wall on the Mexican border to stop illegal immigration and has called for a ban on Muslim immigrants.