Early work experience can provide youth valuable training for future
Start early and land that summer job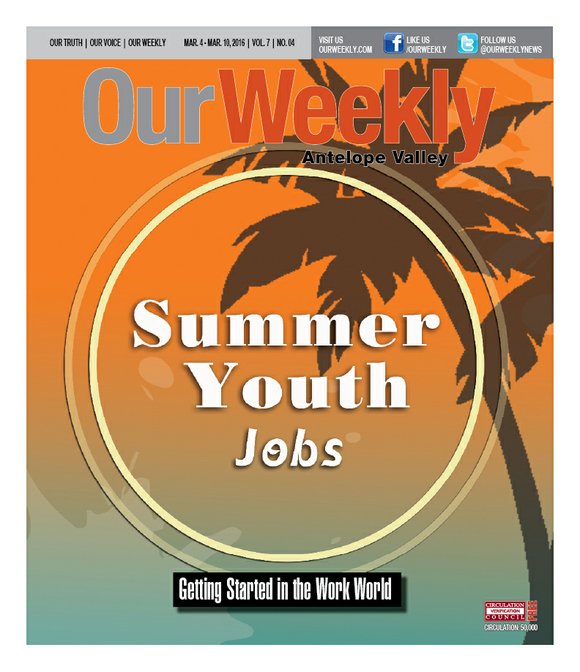 A summer job can do wonders for a teenager. Early work experience can be a critical component of preparing youth for the transition to adulthood, as well as gaining those vital "soft skills" (e.g. reliability, maturity, character) that employers look for in entry-level workers.
The early months of the year are an excellent time for teenagers to begin looking for summer employment. Such early jobs can take various forms including internships, service projects, volunteer work and, for the real "go getters," youth-run businesses and entrepreneurship. It doesn't matter what type of job you're employed in, getting a start in the work world will provide numerous benefits that can be utilized for a lifetime.
Youth workshops in Palmdale
A summer job can increase a person's knowledge of specific occupational skills and workplace settings. You can establish a work history and connections, which can be vital advantages for the upwardly mobile person. You can develop an understanding of different occupations in order to make informed career choices. Research even suggests that work-based training may increase school performance, decrease drop-out rates, and increase college attendance compared to teenagers who do not work during the summer months.
The Palmdale Works Youth Job Academy is hosting through March 10 a series of workshops designed to instill a strong work ethic in area youth. Organizers hope that early information about the competitive job market will encourage youth to think about the future, how to land and retain a job and, most importantly, learn about the responsibilities of an employee as well as interacting with coworkers from a variety of backgrounds.
Academy students will be taught how to dress and prepare for a job interview, and they will meet for mock interviews with local employers from area businesses. Organizers want to send out young people with the skills they need to be successful in the workworld and that means developing strong individual skills to ultimately get hired, keep the job and possibly get promoted.
"Participation in a program like this says a lot to potential employers about the motivation and commitment of any young person entering the job market," said Trish Jones, Palmdale community programs supervisor. "It's important that teenagers learn about gainful employment not only for the summer, but the skills they can be exposed to will carry them onto professional success as they get older."
Los Angeles County invests in youth
For about 10 years, the County of Los Angeles and the Los Angeles County Workforce Investment Board have worked to make youth employment a top priority. Over the years, more than 40,000 youth have received work experience during the summer months. In 2013, a unique program called "Earn and Learn" was instituted to provide youth with an opportunity to succeed in the modern workplace by participating in a mandatory 25 hours of classroom personal development training. The program is helping expose teenagers to career pathways in so-called "high-growth" employment sectors while assigning the youth to real-world workplace settings to gain valuable employment skills and to earn an income.