Student Athlete of the Week
Hamilton's Jermaine Camacho-Small
Jason Lewis | 3/3/2016, midnight | Updated on 3/3/2016, midnight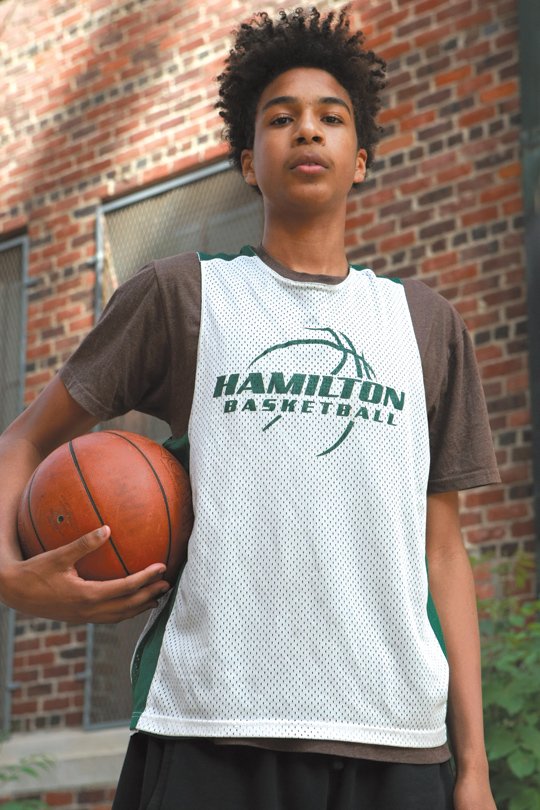 Jermaine Camacho-Small is a lean 6'7" center on Hamilton High School's basketball team. With that type of heighth, he has a great opportunity to play college basketball next year, and possibly follow in his father's footsteps by playing professional basketball.

While Camacho-Small has the genetics to play basketball at a high level, it is the academics that is making the difference. Struggles in the classroom nearly derailed the young athlete, but the desire to play sports inspired him to make a major turnaround, after his athletic career nearly ended during his sophomore year because he was academically ineligible.

"He was well below a 2.0 (grade point average)," said Sterling Brown, head JV coach and assistant varsity coach. "He wanted to come in and play, (but) I wouldn't let him. I wouldn't let him play JV, so he had to play (on the) frosh/soph (team). And he hasn't had any academic troubles ever since. He put in the work academically. His GPA is 2.8 now, and understand (that's up from) a 1.2. He's really worked hard."
"He was forced to take it serious," Brown continued. "He realized that we weren't going to back him up spending half the time being eligible and then not being eligible. He loves basketball, so he realized our expectations mixed in with what he had to do. He made the decision, and he made the correct decision."
Since making the 'correct decision,' Camacho-Small has contributed to a Division II City Section championship team from last year, and now he is one of the leaders of a team that is playing perrennial powerhouse Crenshaw High School for the Division I City Section championship.

Basketball did not always come easy for Camacho-Small, but he was motivated to excel at the sport.
"I watched my dad play, when I was little, and I always wanted to be like him," said Camacho-Small, who played youth basketball at Rancho Cienega Park and Baldwin Hill Park. And even though he was always a highly valued player, he had to go through many growing pains.

"When you're the tallest player, you're always picked first," Camacho-Small said. "But I wasn't all that good. My game didn't start developing until middle school, like eighth grade, coming into high school."
With the help of his father, who played basketball at Iona College in New York City and professionally overseas, Camacho-Small started to become a good player.

"I listened to everything he said, because I knew all the goals that he achieved," Camacho-Small said. "I wanted to do that too."
After playing on the frosh/soph team as a freshman, Camacho-Small was ready to move up to the JV team as a sophomore. But his grades held him back.

"I wasn't a bad kid, I just wasn't doing homework or assignments," Camacho-Small said. "That dropped my grades."
After being allowed to rejoin the team, Camacho-Small started to put school before hanging out with his friends, and he dedicated more time to homework and studying. That made a huge difference, and allowed him to restart his promising basketball career.