Botswanan Officials Tout Economic Success During The Country's 50th Anniversary
Barrington M. Salmon | NNPA News Wire | 6/24/2016, 1:39 p.m.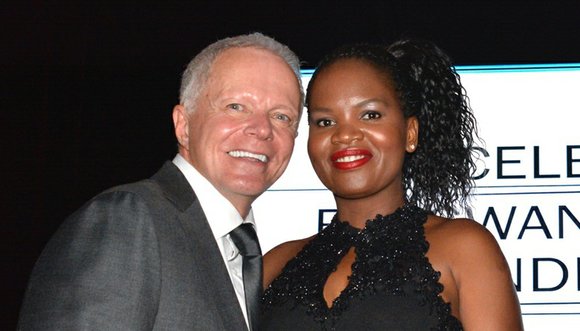 When the southern African nation of the Republic of Botswana gained independence from Britain in 1966, it was ranked as the third poorest country in the world. Through prudence, fiscal discipline and good governance, Botswana earned the reputation as one of the fastest growing economies in the world in the mid-1970s and is now a solidly middle-income country which boasted a per capita gross domestic product (GDP) of $16,600 in 2014.
Ambassador David Newman, Botswana's envoy to the United States, calls his native country "the world's best-kept secret," and as the 2.2 million citizens celebrate 50 years of independence, Newman said that not only will he spread the good news about the country's success, but tourism officials, corporate partners and others will also share the positive reports.
"We are a modern democracy and success story," said Newman during an interview prior to a June 10 black-tie gala at the Mandarin Oriental Hotel in downtown Washington, D.C. "Botswana is the world's largest producer of diamonds in terms of value."
Newman said it was fortuitous for natives of Botswana, that diamonds were discovered in 1967 and since then, diamond mining has fueled much of the country's infrastructure expansion and growth in areas such as education, agriculture and healthcare. Revenues from diamond mining accounts for almost 80 percent of export earnings, more than one-third of GDP, and, according to the World Diamond Council, generates almost one-third of the government's revenues.
"The British were willing to part with [the country] and expected Botswana to be a charity case forever," he said with a chuckle.
The Ibrahim Index ranks Botswana as the best governed nation on the African continent and, according to Forbes magazine, two major investment services rank Botswana – a landlocked republic that gained independence after being a British protectorate – as the best credit risk in Africa.
Newman credits a number of factors for Botswana's stability, including the people themselves, who he said naturally practice tolerance, respect and humility.
"We've developed some good partnerships. We've had 50 years and 10 elections, one every five years. It's a very stable, secure country," he said.
Benjamin Chavis, president and CEO of the National Newspaper Publishers Association (NNPA), praised the progress the country – headed by President Lt. Gen. Ian Khama, former commander of the Botswana Defense Force – has made.
"At a time when our world is overwhelmed with negative news, the 50th anniversary of Botswana's independence is evidence of enduring good news," said Chavis. "The NNPA is very interested in getting and sharing the stories of Botswana's stable democracy and the significance and improvement of the quality of life of African people in Southern Africa."
"We look forward to working with our counterparts in Botswana who're involved in the media, both print and digital. Botswana is a global story of what all people should be made aware."
For 10 days in early June, Newman, tourism officials and representatives of the DeBeers Group traveled to the largest diamond show in the world in Las Vegas, and to New York, Chicago and Washington, DC to drum up exposure and nail down trade and investment opportunities.