10,000 registered nurses plan strike for late June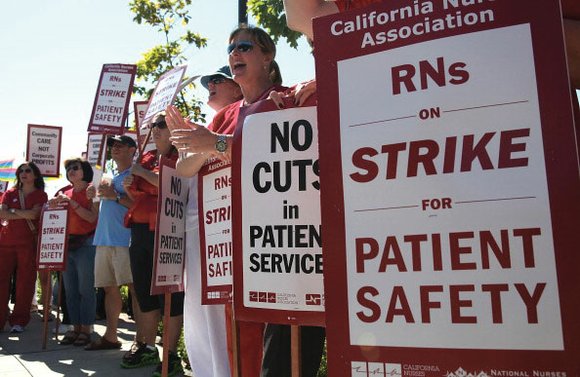 Nearly 10,000 registered nurses in California, Massachusetts, and Minnesota are prepared to strike in late June on a series of patient safety and quality care concerns. All the RNs are affiliated with National Nurses United, the largest U.S. union and organization of nurses.
California – On Wednesday, June 22, some 300 RNs at Watsonville Community Hospital—members of the California Nurses Association/NN—are set to start a two-day strike. Nurses cite chronic short-staffing, retaliation against RNs who speak out about patient care concerns, and management's refusal to accept or address RNs' written documentation of unsafe assignments.
Watsonville RNs have been in dispute with a series of for-profit chains for several years, starting with Tennessee-based Community Health Systems, which has since siphoned off the hospital to Quorum Health Corporation, which continues to share the same corporate law firm and health plan as CHS. Hospital management's profit-focused mentality, nurses say, is reflected in an outright refusal to address severe deterioration in patient care conditions as well as a hard-line demand for sweeping cuts in nurses' contractual rights and protections.
"Short-staffing is outrageous from a patient safety standpoint. But even if this corporation cares more about its business model and profits than our community," says Watsonville RN Sandy Flanagan, "the fact remains that chronic understaffing of nurses actually drives up healthcare costs. This corporation's decision to cut patient care standards and overwork nurses comes at a dangerous cost to our community."
California – On Thursday, June 23, in Los Angeles, RNs have scheduled the beginning of a four-day strike involving 1,300 RNs at Kaiser Permanente's flagship Southern California hospital, Los Angeles Medical Center. Again, patient care issues are at the center of the dispute, especially inadequate staffing for the hospital's Tertiary Care center, short staffing for critically-ill children in the hospital's Pediatric Intensive Care Unit, and lack of proper staffing to allow nurses to take rest and meal breaks.
Kaiser LAMC receives complex and special needs patients from Oregon and Colorado and from all parts of California. The hospital is allegedly not staffed appropriately for the complex procedures they perform.

"LAMC's Pediatric ICU is so short staffed that on a daily basis nurses are not able to take their breaks. Nurses are also seeking equitable wages with other CNA represented Kaiser RNs in Northern and Central California."
"Our hospital is the tertiary center for the region," says LAMC RN Tinny Adogado. "We treat patients from as far as Oregon and Colorado. We are proud of that, but we need Kaiser to focus on providing us the resources we need to properly take care of our patients."
"It breaks my heart to see families everyday struggling to pay co-payments and premiums, while Kaiser executives make millions of dollars," says LAMC RN Sandra Hanke. "We need Kaiser to focus on caring for our patients and providing the adequate number of nurses to do that."
"This hospital is not just a place I work. The patients and my fellow nurses are my community. I am very disappointed that Kaiser refuses to invest in the nurses, so that our patients can get the care they need," adds LAMC RN Irma Dufelmeir.