Santa Clarita fire continues to force evacuations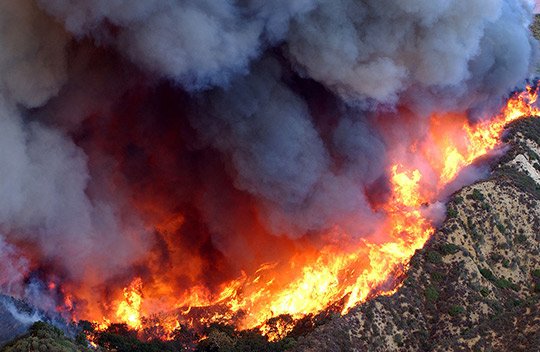 About 3,000 firefighting personnel were working today to extinguish the Sand Fire, which has consumed more than 33,000 acres, destroyed at least 18 homes, forced thousands of residents to evacuate and possibly claimed a life.
About 10,000 homes – occupied by an estimated 20,000 residents – have been evacuated since the fire broke out on Friday afternoon near Sand Canyon Road in Santa Clarita, along the northbound Antelope Valley (14) Freeway, sheriff's Capt. Roosevelt Johnson told reporters at a morning news briefing.
On Saturday at 7:20 p.m., the badly burned body of an unidentified man was found in a car parked in the driveway of a house in the 26700 block of Iron Canyon Road.
"We're still actively investigating" the fatality, Johnson said, noting that the cause of death will be determined by an autopsy.
As of this morning, containment of the fire was listed at 10 percent, and the acreage was listed at 33,117, said county fire Chief Daryl Osby. The cause is under investigation.
Osby re-stated his appeal for residents affected by the blaze to heed mandatory evacuation orders for their own safety – and for the protection of public safety personnel.
According to the California Highway Patrol, some firefighting personnel have been nearly run over by people driving carelessly in the area.
Officials also warned people not to fly drones in the fire zone, noting that a couple of "incursions" of drones into the fire zone occurred on Sunday.
County Supervisor Mike Antonovich said a SuperScooper aircraft that the county leases from Canada will not be available until August. He said the Board of Supervisors tomorrow will move to declare a state of emergency due to the fire, and will also review the situation regarding SuperScooper aircraft to try to make them available year-round in the Southland.
About 2,000 homes have been threatened by the massive blaze. Officials said two firefighters assigned to battle the flames have lost their homes.
Over the weekend, residents were ordered to leave their homes on Agua Dulce Canyon Road north to the Antelope Valley (14) Freeway, Crown Valley north to the Antelope Valley (14) Freeway and all of Soledad Canyon between those two areas.
By Sunday evening, residences from Golden Valley Road to Sand Canyon, excluding the Sand Canyon Mobile Home Park, were evacuated. Also by that time, the acreage burned went from 22,000 to more than 33,000 acres, the Los Angeles County Fire Department reported.
Evacuation centers were established at Highland High School at 39055 25th Street West in Palmdale; at Hart High School at 24825 Newhall Ave. in Santa Clarita; and at Lakeview Terrace Recreation Center at 11075 Foothill Drive in Sylmar.
"This is a very serious fire and when we tell people to evacuate, they need to evacuate," Antonovich said Sunday.
"We have one fatality and 18 homes already destroyed – one partially. So, again, all the orders that have remained relative to road closure and evacuations, please listen to the fire department, listen to the sheriff's department," Antonovich said. "We want to save lives; we want to protect property. We want to save the animals. We don't want to lose any more lives."