A protein punch
Add fun, flavorful variety to your summer cookout
7/1/2016, midnight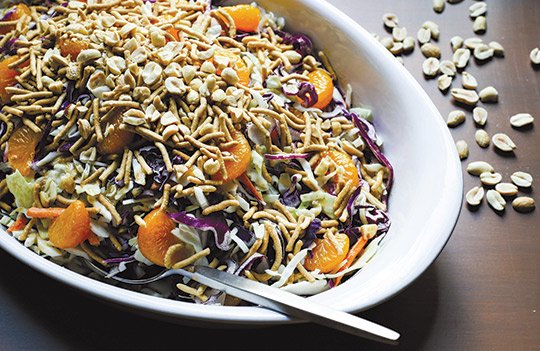 Thread beef cubes on skewers. Add your favorite vegetables to skewers prior to cooking, if desired. Broil or grill kabobs. Set broiler pan so surface of beef is 3-4 inches from heat. Broil 7-9 minutes on high heat, turning once, for medium rare to rare. If grilling, heat grill to medium-high heat and grill about 7-10 minutes. Serve with warm peanut dipping sauce.
No Bake Peanut Butter Pie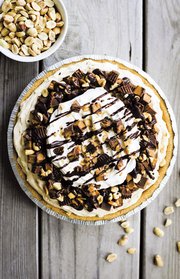 4 ounces cream cheese
1 cup confectioners' sugar, sifted
1 cup crunchy peanut butter
1/2 cup milk
8 ounces frozen whipped topping, thawed
1 prepared deep-dish graham cracker or chocolate-flavored pie crust (9 inches)
whipped topping (optional)

chocolate syrup (optional)
chopped peanuts (optional)
candy bar, chopped up (optional)
In large bowl, beat together cream cheese and confectioners' sugar. Mix in peanut butter and milk. Beat until smooth. Fold in whipped topping.
Spoon into pie shell; cover and freeze until firm.
If desired, pipe extra whipped topping on top of pie then drizzle with chocolate syrup and top with chopped peanuts and candy bar pieces.
Peanut Power
• Peanuts are nutrient-dense and have the most protein of any nut. According to the U.S. Department of Agriculture, an ounce of roasted peanuts provides about 8 grams of heart-healthy, cholesterol-free, plant-based protein.
• New research from Harvard shows eating peanuts daily is associated with living longer. This study showed that men and women who ate an ounce of peanuts every day reduced their risk of death from all causes by up to 20 percent.
• Research also suggests that eating peanuts and peanut butter at least twice per week could help reduce the risk of breast disease in young women.
• Peanuts and peanut butter contain bioactives, including flavonoids, phenolic acids, phytosterols and resveratrol, which are plant substances that may offer health benefits beyond vitamins and minerals.
Photo courtesy of The Peanut Institute (Peach Peanut Salsa)