Drug abuse begins with 'fun' experience but usually results in agony, tragedy
Heroin addiction among youth at record level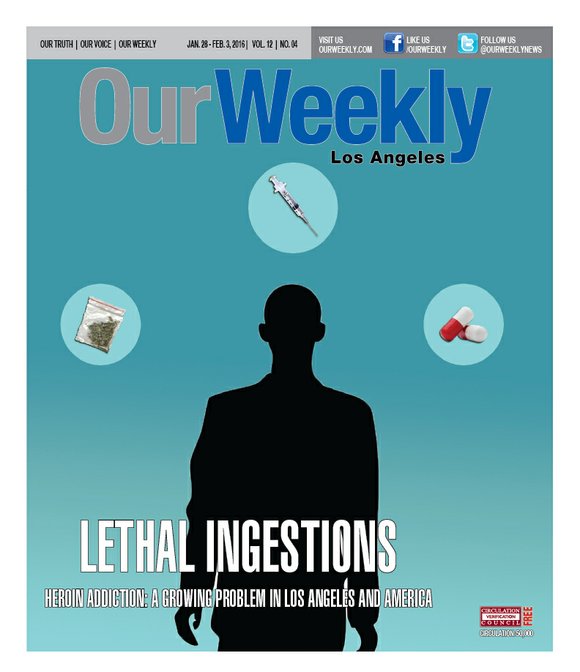 Heroin use and addiction is reportedly skyrocketing in Los Angeles County and across the nation.
The Drug Enforcement Administration (DEA) reported in late 2014 that an increasing number of teens and adults in southern California are using heroin. As well, the federal Substance Abuse and Mental Health Administration reported initiations (first-time users) of heroin have increased by 80 percent among teens ages 12 to 17 years. The increase in heroin use is largely attributed to the drug's low cost and easy availability.
"Heroin use has become a particular concern for the DEA because we're seeing people using heroin at such a young age," said DEA Agent Sarah Pullen. She said high school counselors in Los Angeles and Orange counties are reporting an increase in heroin use among teenagers, and also in covert sales on campus.
In an eerie similarity to the crack epidemic that swept through the nation's inner cities during the 1980s and 1990s, heroin use has led to an increasing number of drug addiction-related deaths in wealthy suburbs as teenagers and privileged adults gain more access to prescription medicine like OxyContin (a synthetic opioid) and are getting hooked. As the money dwindles, they are turning to a more affordable high: heroin (also an opioid). One 80-milligram OxyContin pill may cost as much as $100, while a bag of heroin can be purchased at the low price of $10, according to California Watch, a nonprofit center for investigative reporting.
OxyContin abuse has apparently decreased now that the painkiller has been reformulated to make it more difficult to misuse. The DEA says that many people who once abused OxyContin have switched to heroin, supplied primarily via Mexican and South American drug cartels.
Lawmakers, state officials, advocates and law enforcement nationwide are attempting to mitigate the heroin and prescription-drug crisis and had a message this year for Congress: "We need your help."
"Listen, we need financial help," said Vermont Gov. Peter Shumlin at a Senate Judiciary hearing. "We're scraping together pennies to try and make our treatment centers stand on their own." Four senators from some of the hardest hit states joined Shumlin on a panel of witnesses for the hearing. They urged their colleagues to take action on a piece of legislation before the committee, the Comprehensive Addiction and Recovery Act (CCRA) which they believe will boost state and local education, prevention and treatment efforts. The senators attending included Rob Portman of Ohio, Kelly Ayotte of New Hampshire, Sheldon Whitehouse of Rhode Island, and Amy Klobuchar of Minnesota.
The proposed bill would direct the Department of Health and Human Services to convene an inter-agency task force to develop best practices for prescribing pain medications, which witnesses testified can lead to drug abuse and serve as a gateway to heroin. The bill would also authorize a series of grants—including incentivizing states, localities and nonprofits—to expand educational efforts to prevent abuse and provide treatment alternatives rather than incarceration. The bill would authorize a minimum of $100 million to be included in annual congressional spending packages to combat heroin and opioid abuse and, the politicians hope, would make it more likely that the programs would be funded in the future.