Simple, satisfying soup for supper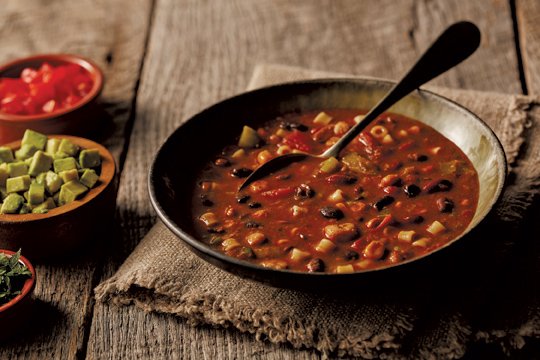 A hearty, flavorful bowl of soup on a chilly night is hard to beat. But if the thought of preparing soup from scratch makes you think "nice idea, but too time consuming," it's time to rethink soup making.
Minimum prep and maximum flavor is what you get with Southwestern Bean and Pasta Soup. It goes together quickly, using both fresh and prepared ingredients. The beans and southwestern seasonings from READ Southwestern Bean Salad jumpstart this soup—both in flavor and sustenance. Sauteed fresh vegetables add extra color and nutrition. The pasta cooks along with the other ingredients to save yet another step. Make it vegetarian or add ground beef or poultry; either way, it's delicious.
Serve this versatile soup meal to the family, or double the recipe and invite the neighbors over for a simple supper that's on the table in under an hour. Offer toppings such as avocado, sour cream and cilantro to dress it up for company.
Additional tasty, timesaving recipes can be found at readsalads.com.
Southwestern Bean and Pasta Soup
Preparation time: 25 minutes
Cook time: 20 minutes
2 cans (15 ounces each) READ
Southwestern Bean Salad, divided
1 tablespoon olive or canola oil
3/4cup chopped bell pepper
1/2cup sliced green onions
1 small jalapeno, seeded and finely
chopped
1 large clove garlic, minced
1 can (14.5 ounces) no-salt-added diced
tomatoes
1 carton (32 ounces) low sodium, reduced-
fat vegetable or chicken broth, divided
1 cup water
1/2 cup ditalini pasta, uncooked
Optional toppings:

sour cream
plain yogurt
chopped cilantro
avocado
tomatoes
Place contents of one can bean salad in blender or food processor. Process until partially pureed, with small chunks remaining.
In large soup pot or Dutch oven, heat oil over medium-high heat until hot. Add bell pepper and onions; cook and stir about 2 minutes to soften. Add jalapeno; cook and stir 1 minute. Add garlic; cook and stir 30 seconds.
Stir in pureed bean salad; add second can of bean salad and tomatoes. Add 3 cups of broth and water. Bring to boil; reduce heat and simmer, uncovered, 15 minutes. Add pasta; cook 7-9 minutes, or until pasta is al dente. Add additional broth as desired for consistency. Serve with toppings, as desired.
Variations: During step two, cook 1/2 pound lean ground beef, chicken or turkey breast in oil, stirring frequently until cooked through. Add pepper and onions and continue as recipe directs; add additional oil 1 teaspoon at a time, if needed for cooking vegetables.
Nutrition information per serving (1/8 of recipe): 180 calories; 6g protein; 26g carbohydrate; 5g total fat; 530mg sodium; 0mg cholesterol; 6g dietary fiber; 11mg iron; 0.06mg thiamin; 944 IU vitamin A; 13mg vitamin C.